Ejaculatory Stories: Sloane Fox Intimately Interviews Tallulah Sulis and 4 Women Who Squirt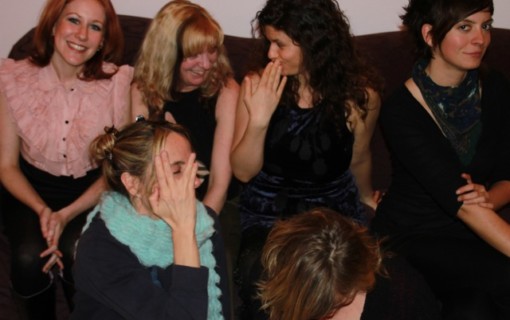 As you may know, Tallulah Sulis is our "ejaculatory orgasmic expert," teaching Female Liquid Orgasm.
Today, the goodness just keeps <ahem> *flowing!*
I interviewed Tallulah and 5 of our squirtilicious girlfriends.
Ejaculatory Stories with 5 Squirters [Audio]
Here are some of their quotes from the recording:
"The obvious benefit is that the hotter he is for you the more hot awesome passionate wet sex you're going to get out of him."
"Just let your hair down and be animalistic."
"I love getting messy. I love squirting all over my lovers. I think that just adds to the whole experience. You're slipping and sliding over each other."
"It turns our men on something fierce."
"I've soaked through futons and all the way to the carpet."
"This is the turning point for men doing laundry. Cheers all around on that one.
"I love soaking the bed and having to change the sheets. It makes me feel proud somehow that my body did this and that we're having such incredible sex that it looks like someone spilled a big glass pitcher of water all over the bed. In fact, my current boyfriend, when I first ejaculated with him, you know what he said? He looked at the sheets and said, "Oh my god, it looks like a CSI crime scene in here." We both laughed because he had never seen this before. There is a lot of liquid guys. Be prepared for a lot of liquid. It's hot. For me this is tangible evidence on the sheets of my ecstasy and tangible proof that my body is filled with so much pleasure that I explode."
"The first time I ever ejaculated I didn't know what was going on and the man that I was with said, "Oh don't worry, it's not pee. Sometimes women just do that. It's just another form of sexual release." I thought, "Oh my gosh, to hear a man tell me that," I just thought it was the coolest thing in the world and it made me love ejaculation and what I could do with my body."
"For instance, guys will do all this g-spot training and they'll think it's way inside and they'll be wiggling around their finger. I'm going, "That doesn't feel very good." "Mine is very close to the entrance."

Ready to Listen to Ejaculatory Stories with 5 Squirters?
Right click on this purple download button to save this to your desktop.

Tomorrow I'm going to tell you about a brand new seduction strategy that will help your woman want you to help her squirt.
Note: Did you already listen to my Ejaculatory Story audio interview with Miel?
She's a smart woman and so full of heart to share her intimate life with you, my dear, in hope that she'll inspire and educate you to create powerful experiences for YOUR woman.
Warmly.
Susan Bratton
Learn more how to give a woman squirting orgasms, download this free eBook below!