Lust Triggers Webinar Replay Link – Revive Her Drive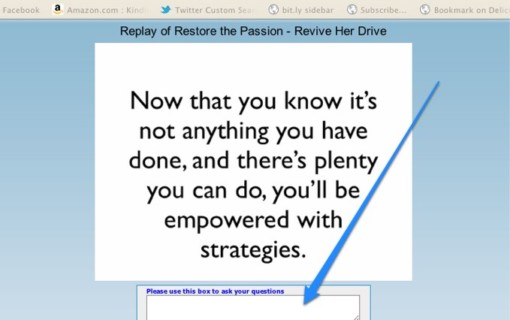 Here is your replay link for the "Lust Triggers Webinar." ⇐ Click Here
Did you watch it yet?
If you haven't yet watched it and you want to know how to seduce and arouse her so she becomes one of those women who LOVE SEX…
If you want to discover the real reason she stopped wanting sex with you in the first place and how you can turn her back on again with seduction skills…
If you want to know why it's not HER fault that her sex drive waned…
And you want to know what you can do about this so you can get back to the sex you once had and even take it higher, make it better, hotter, sexier,
more passionate…
Listen, when a guy's gotten rejected over and over for sex you rightfully have feelings of resentment or skepticism that a "seduction solution" is even possible.
I feel you.
I saw how my lack of interest in sex turned my husband into a stone-cold, disengaged, angry shell of a man.
Sexual rejection destroys your confidence.
It sucks the life out of you.
And it just sucks.
You KNOW I have a turn-around plan for you.
Revive Her Drive is a seduction solution for turning your woman back on again.
But unless you can let go of any anger and resentment, it will hold you back from success.
There's a very simple reason she distanced herself and when you find out WHY…
…you are going to smack yourself on the head in the realization that it's NO WONDER she pulled away.
**You will totally GET this.**
And I believe you will not be mad anymore.
That you will immediately feel more hopeful about how great sex life you can create with your woman…
…no matter where you are now.
No matter HOW badly your sex life has disintegrated.
See if I'm right by watching a replay of this free Webinar I created to give you all the reasons it's safe to hope again for a lusty, juicy sex life with your lady.
(It'll explain resetting her sexual brain chemistry and triggering her love chemicals again with my 4-Step turn-around plan.)
"Lust Triggers: The Real Reason She Stopped Wanting Sex With You" Webinar ⇐ Click Here!
Watch it!
Pretty please?
Get Her To Want You Again.
Note: The webinar walks you through how a guy can revive his woman's sex drive and introduces you to my online seduction program. It's free and I present my program, along with giving you some great insights, details and free things to try.