Review of "Mastering Her G-Spot" by Gabrielle Moore
Hello Erotic Explorers!
Since my expertise is specifically about the G-Spot and Female Ejaculation, I love to review other online products and educational materials about the subject.
I am a fan of Gabrielle Moore's work and wanted to share with you my review of her new eBook: Mastering Her G-Spot as well as her bonus eBook: Wet Orgasms.
Mastering Her G-Spot had great tips and techniques as well as a heartfelt and sensitive approach for men to learn about G-Spot pleasuring and introducing it to their partner. This eBook would be great for men who perhaps have been married for a while and want to spice it up and introduce new experiences into their lovemaking. It would also be great for men who simply want to be better lovers and learn some great G-spot techniques.
My online home study course Female Liquid Orgasm shares similar and complimentary information and differs in that it's focus is more on female ejaculation instead of staying simply with G-Spot stimulation techniques. Since the G-Spot is the core component of squirting orgasms, I cover both in depth.
I do have to say that Gabrielle's style is a bit more tame and less sassy. There was a feeling of playing it safe that left me a little bored at times with the material. Although some of the chapters seemed a bit cliche in their teachings with very typical sex advice, she knows how to also pack a punch with her G-Spot positions, which I have to say I did learn some new ones that I had not previously tried.
(you will have to opt-in with your email address to see it, but she has great information and you can one-click unsubscribe anytime)
She'll explain:
| | |
| --- | --- |
| | The hidden (and highly sensitive) spot in your lover's body most women don't know about… and how you canstimulate it for intense, throbbing pleasure! |
| | |
| | The truth & origins of the legendary female G-spot (If you have always wondered if it exists, here's scientific proof.) |
| | |
| | The science behind G-spot stimulation… and why it feels so good to your lover in bed! |
| | |
| | The 2 hard-and-fast rules of G-spot stimulation (Justknowing where her G-spot is isn't good enough, you have to do these 2 things to get her sexually aroused!) |
| | |
| | A 3-step exercise to accurately locate and awakenyour lover's G-spot in bed (No more guessing at where hersweet spot is… This exercises points you to the EXACT spot!) |
| | |
| | What to do if your lover is shy or self-conscious and does NOT allow you to "hunt for" her G-spot in bed(Here's one sneaky tactic you can use to get around this…) |
| | |
| | What you should do AFTER you have located your lover's G-spot? You want to make sure you do this… |
| | |
| | The shocking truth about the common, over-usedmissionary sex position and why it may be hurting your sex life! |
| | |
| | One simple object in the bedroom that allows you to turn the ordinary missionary position into some intense G-spot stimulation! |
What's In Mastering The G-Spot?
Chapter 1 discusses some good scientific information about the G-Spot, female ejaculation and anatomy.
Chapter 2 discusses the different types of orgasms women have as well as some of the myths associated with vaginal orgasms….Oy Freud!
Chapter 3 is about why traditional positions such as the missionary and rear entry don't work well for G-Spot stimulation. Stay tuned for Gabrielle's modified versions of these positions to find out how they can be G-Spot friendly.
Chapter 4 goes into depth about communication and intimacy (some of it was good info and some of it was a yawn).
Chapter 5 was about creating romantic mood and environment: Again, a bit cliche here but important information for someone who is reading about this that is all thumbs when it comes to setting the stage for a hot evening.
Chapter 6 goes through the stages of arousal for men and women with a beautifully illustrated chart of her erogenous zones.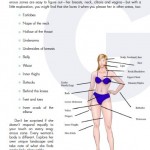 This is great information for those who go straight for her genitals without understanding all the amazing places you can caress and stimulate as part of foreplay and during intercourse.
Chapter 7&8 (My two favorite Chapters) discuss modified versions of basic positions as well as specific G-Spot positions that will give her explosive G-Spot orgasms.
This is the meat of Mastering The G-Spot and the part where I definitely perked up! I really enjoyed the diagrams of each position and the way they were described.
Many of them I had described in Female Liquid Orgasm (Gabby's illustrations are really excellent) but there were 2 positions in particular that I had not included in my eBook that were most intriguing to me.
One was the Modified Missionary which includes using a pillow or ramp underneath her butt while he uses his finger inside her stimulating her G-Spot WHILE his cock is inside her too. Wow! That is one that I had not experienced before or tried!
The other position that I really liked was the G-Force, an advanced position that requires some strength and flexibility. The man is upright on his knees while the woman is below lying on her upper back with the rest of her body propped up in the air in front of him. You might just have to see the diagram to get it, but I have to say that I have tried that one in a slightly modified form and absolutely loved it!
The G-Force position is one of my favorite ways to have explosive orgasms and ejaculate.
Gabrielle, you did well with that one. 🙂
Chapter 9 discusses Oral and Manual techniques. I think a bit more information and technique could have been dedicated to this part, but Gabrielle has more in-depth books specifically about manual and oral techniques that are available.
Chapter 10 is all about Sex Toys and Lube and how to introduce them into your lovemaking.
Chapter 11 talks about implementing what you've just learned with sample communication scripts to introduce G-Spot play with your partner. I have a detailed chapter about this in Female Liquid Orgasm and I think Gabrielle thoroughly discussed what to say, what not to say, how to say it, and appropriate times to bring G-Spot exploration up with a partner.
Gabrielle Moore is not only thorough when it comes to techniques, but also when it comes to the delicacies of approaching this subject with a partner as well as the emotional and intimate components to G-Spot stimulation and exploration.
The sweet spot in this eBook is definitely chapters 7 & 8 with the various G-Spot positions. Readers who are a bit more advanced on their path will want to trim the fat and skim through some of the cliche parts. It is definitely worth a read to get some great information and be inspired to take lovemaking to another level.
I have to say I was very disappointed with the Bonus eBook Wet Orgasm. It was simply a repeat of Mastering Her G-Spot verbatim. It literally had the same information word for word with a little intro about what Female Ejaculation is in the very beginning. In some ways though, I would say that Wet Orgasms was the cliff notes version of Mastering Her G-Spot and I would have gotten the same information with less fluff if I had only read Wet Orgasms.
I personally don't want to feel like learning about sex is a chore. I need a bit more fun and excitement when learning sexual techniques. Now, I do get serious with Squirt Your Heart Out and Female Liquid Orgasm, but I made sure to jam-pack it with LOTS of information as well as fun and exciting tips and techniques while also remaining sensitive to her emotional needs.
With Mastering Her G-Spot, I felt like a lot of time was spent wanting to get to the juicy content and information while skimming through the fluff.
While I don't think that Gabrielle's eBook is a great buy for $47, I think it is a good start for someone who is learning about the G-Spot for the first time and wanting to share this with their partner.
If you really want to get your hands….er wet: spend an additional $50 to get step-by step video clips, audio, a comprehensive eBook and a lifetime membership to a Member's Forum with Female Liquid Orgasm aka "FLO." It believe video is vitally important when you're learning skills like "fining the G-Spot" and different stroke techniques and patterns. In FLO I have two series of videos. The first is a more feminine, artistic series of clips that show a woman having ejaculatory orgasms with her partner (or self-loving) in different ways. The second video series is a step-by-step squirting date with Robert and Ripple where I narrate what's happening as Robert is helping Ripple squirt. FLO has tons of information that is exciting AND stimulating to learn. And obviously I'm biased!
What ever you decide – try one or the other. Gabby's Mastering Her G-Spot also comes with an audio book version of both the main book and the bonus book. Mine is audio, video and eBooks plus a Forum.
Decide where you are in your learning. An eBook might be just the right place to start with your gal.
Then, when you're ready to plunge in and get wet… you know where to find me.
No matter how you go about it, learning how to give your woman the exquisite release of liquid orgasms, squirting orgasms and the satisfaction of G-Spot touch and massage will be one of the most crucial sexual education areas of your knowledge.
Know how to deliver this kind of sensation to a woman – and yes, there is an art to it – and she will consider you the best lover she's ever had!
(I prefer to think of it as G-Area, cause it's so much more than a 'spot.')
May the G-Force Be With You!
Tallulah Sulis, Erotic Educator, Somatic Sexologist and author of Female Liquid Orgasm, Squirt Your Heart Out! and Keep Her Coming.
Get our free eBook to learn more about female ejaculation.