Romantic Ideas and Intimate Questions Melt Her Into Your Arms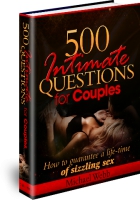 (Download FREE eBook "101 Romantic Ideas" Below)
Do you agree with these two broad-sweeping generalizations?
1) Men prefer the visual imagery of sexuality.
2) Women prefer the romantic language and situations of romance.
Want some great ideas to romance your woman so she'll melt into your arms?
My friend, Michael Webb, (dude's been on Oprah!)  just released his latest new ebook, "500 Intimate Questions for Couples."
I highly recommend this sweet, intelligent book of questions to you for 3 reasons:
1) It will get her talking about her sensual desires and give you insight into what's on her mind, her value system and your sexual compatibility.
2) It's one heck of a better conversation than current events and can lead to some hot make out sessions or more! Call it "mood inspiring" conversation…
3) By sparking erotic conversation with a book like this, it won't be you weirding her out with your neediness around sex, it will be a fun thing you are doing to deepen your intimacy.
500 Intimate Questions for Couples is perfect both for dating and for long-term relationships.
Some of my favorite questions in the book include:
What do you believe is your "point of no return" sexually?
Where is the most romantic place you've ever been?
If you were commissioning a painting of your lover, at what angle would it be?
In your perfect sexual fantasy, what would happen?
Are you interested in learning any new sexual techniques?
Have you seen something around the house you thought would make a fun sex toy?
What is something I do now sexually that you wish I did more often?
Fun stuff, huh? You can see how these 500 Intimate Questions for Couples can lead to some hot, juicy conversations!
Get  500 Intimate Questions for Couples you enjoy a bonus ebook, "100 Great Sex Games for Couples."
When I asked Michael for whom he wrote the book, he said,
"Those dating who are not yet "intimate" but want to know if they are likely to be "compatible" BEFORE making that decision."
"Those in a relationship that has gotten a little stale and could use a boost in love and lovemaking"
"Couples whose relationship is falling apart and need a quick jolt of deep intimacy"
"Couples who put a high value on communication and sex in their relationship and are looking for tools to make it even better"
"Men who realize how sexually powerful intimate discussion can be and want to use the questions to seduce their wife or girlfriend over and over."

It's a sweet sample that will familiarize you with the quality of Michael's work and give you some awesome, romantic ideas to win the heart, mind and body of your lover.
With Love,
Susan Bratton