Why Women Have Sex: Free mp3 Download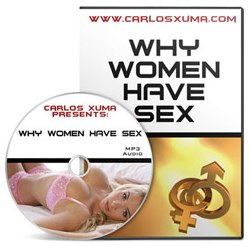 My ears perked up when Carlos mentioned, "The Slut Complex."
First I thought, "Who you callin' a slut?"
Then I thought, "Hmmm… I guest I AM a slut." <giggle>
Then I realized he was just talking about this free MP3 download…
You could read this really long-winded book full of research called, "Why Women Have Sex," or you could just download these three free MP3 files from my super smart friend, Carlos Xuma, instead.
Carlos is the head guru of the Alpha Lifestyle – success with women, and living like an Alpha Man…
I just love, love, love this guy. And so do men.
His appeal is contagious, 'cause he shares his learning.
The Aural Pleasure Is All Mine!
Since we're talking "Alpha," tomorrow I'm exploring Polarity.
How to be masculine in the bedroom without her thinking you're an a-hole and getting all up in your grill about equality.
With love,
Sloane Fox