Question:
Ever since I had my hysterectomy I have had a problem with lubrication.  Hormone replacement has helped with me getting wet inside.  The problem is that the outer area stays dry and it makes penetration and sometimes just touching a bit uncomfortable.  Lubricants help some.  What else can I do? — Alexandra
Easy Answer:
I recommend Avocado Oil.
It's a protein-rich moisturizing oil high in Vitamins A and E. It just feels wonderful as compared to other natural oils like grapeseed or coconut and is vastly superior to processed, chemical-based sexual lubricants.
Keep two on hand – one that's light and has a smooth glide and another that's more viscous and "holds" better during the friction of intercourse.
Not only will you be nourishing your genitals with natural oil, it feels wonderful and it's completely edible. You can go from intercourse to oral sex with a quick wipe of a towel or reapplication.
I've tried MANY avocado oils and the thinner one I recommend is this:
The thicker one I recommend is this:
Try the thick one for intercourse, the thin one for warm up stroking.
Please also use Polyurethene condoms, not latex, if you're using these natural oils.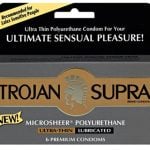 Latex breaks down by some oils and can create holes in the condom that can let in STD's and let out ejaculate. Be Safe!!!
With Love,
Susan Bratton