True story.
Randy works out at the gym six days a week. His biceps look like tree trunks. His shoulders look like he lifts VW's for fun. Other men, and definitely other women, sneak a long look at him as he walks down the street.
Randy is buffed.
And the other day, he and Lainey were making love.
Actually, they were having wild, animalistic sex — really getting into it — letting themselves go into their sensation.
Lainey was screaming with every thrust that Randy delivered.
He could tell she was digging it.
She was thinking to herself, "Oh my god, I have waited my whole life to experience this!" "YESSSS!
And Randy was starting to flag.
His arms were good at holding him up over Lainey, but his thighs were burning, his hips were tired… crap!
He had to stop…  rest…
Well short of when Lainey would have chosen to take a break.
Randy had to recoup his energy instead of taking Lainey even higher into her state of ecstasy.
He thought, "Dang, I need to get in better shape for heart POUNDING sex."
(Randy used a different word than "heart pounding sex," but you know what I mean.)
Lainey was Randy's lifetime opportunity to have the kind of sex that most couples only dream about. They were hot together and she wanted all he could give her.
He wasn't about to squander this perfect set of circumstances.
I recommended Exersutra to him.
Exersutra is an online training program that gives you a specific set of exercises for men that build the muscles required to have great sex.
They are common exercises, like the Plank and Dips, but in a sequence that works optimally to condition you to be a Sex Machine.
Exersutra is not about buffing you up, like Randy. It's about targeted, spot exercises to give you strength where you need it. Even in your tongue!
It's easy to add these to your existing routine and you may likely be doing some of them already.
I work with a lot of men who find themselves having more and better sex because they are actively incrementing both their sexual communication skills and their advanced sexual mastery techniques.*
This situation is very satisfying business for both of us! I love serving women by teaching their men how to romance, seduce and make love to them in incredibly satisfying ways.
And I love watching my guys push their skills to Olympic levels.
Recently I came across three body-based concepts that are all excellent, Exersutra being one of them.
Exersutra – an online program with classic, easy, fun exercises that pinpoint the muscle groups you need to have the stamina to give her heart POUNDING sex.
Fit for Love – a book that teaches you how to use your hips to maximize her pleasure during lovemaking. Swivels are sensational!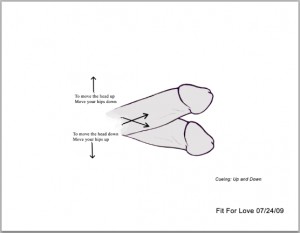 Younger Next Year – a book that leverages evolutionary physiology to precisely focus on the actions you can take to keep yourself vital, fit and sexually appealing.
If you want to be a Sexual Champion, I suggest you learn to swivel and pivot your hips and penis in the Fit For Love manner, you do the Exersutra program and you get motivated by reading Fit For Love.
All in, we're talking $50 bucks. Two very cheap books and an $29 online program. For the best pounding you can muster.
I can't think of a better way for a man to feel vital, confident and take on that swagger we gals cannot resist.
I believe that if you are fit and ready, your lover is going to find you irresistible.
Make sure you are not just fit, but you have the stamina where it counts – quads, glutes, tongue… more!
Instead of waiting for her to act ready for more, why don't you just give it to her?
That's sexual vision.
That's masculine leadership.
Randy didn't get Lainey in bed simply because of his loving heart and delightful intellect alone… he attracted her, like bees to flowers, with his male essence, his ready state, his confidence that he could deliver that heart pounding experience we women fantasize about. And some of us get.
Lucky us.
❤
With Love,
Susan Bratton