Vaginal Wetness, Dryness and Lubrication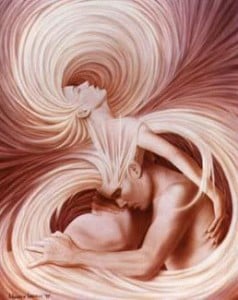 Few subjects create as much consternation for both sexes as vaginal wetness.
It's one sign of her arousal and desire for you.
A lot of women rush their men during lovemaking, not giving you time to fully arouse her.
Instead of foreplay pleasure, there's a hurry to "get you off."
This is no fun at all.
Lingering.
Loving.
Building the anticipation and excitement.
Feeling the arousal deep inside.
The resulting wetness, a sweet sign of desire.
When she doesn't get juicy, it feels like a little letdown, doesn't it?
As painful as this is for you to hear, if she's not getting lubricated, it could be a sign that she's not turned on.
Now all women have cycles where there's more or less lubrication, but knowing what I know about women… she's likely BORED!
We women need so much variety in our sexuality, much more than our guys.
And though she might seem like she's just not into sex with you, believe me, she wants mad, passionate sex.
She wants to be wet with desire.
And she may need more of a medley of sexual options done to her, even if she resists now. (more on that in an upcoming email)
Here's how you can help her find her turn on for you:
Turn her on all day, not just before sex, by romancing her.
Acts of kindness, like the sensual gifts about which I've been emailing you ideas, are one way for you to show her you covet her.
But don't do things or give her things to GET sex. Do them so she knows you adore her. Then ramp the romance up too. Like this:
Use a lot of erotic communication, (the BEST place to get all you need is the Erotic Communication module with Adam Gilad in Revive Her Drive) starting with sweet talk, compliments, adoration and perhaps even a little under-the-breath deep and low sexy talk and escalating.
Encourage her femininity, perhaps entice her to sit on your lap for a few minutes and just hold her tightly and love her.
If she'll let you kiss her, have a hot make out early and then give her some time to think about it before initiating more sexual behavior.
If she isn't (yet – because I'm going to help you get back into kissing her again) into french kissing you, kiss her in Zone 2 and 3 places (All important Zone Theory is thoroughly covered in Revive Her Drive on the Module Maps to Buried Pleasure) such as her neck and décolletage, her shoulder, her back, her forehead – kiss your way from the outside in.
Stroke her body with long, lingering strokes, varying the pressure from light to smooth but heavier pressure.
Move away from her again. See if she pursues you. Leave hours if not days between these catch and release actions. This increases her arousal.
You can move into more specifically sexual foreplay from here or you can leave it at this for a day and return to her to start this over again.
If you do this for a few days, she'll likely be way more turned on and ask you for "a little something more."
Take your time. This is the slow dance of seduction she needs to get wet.
When you get her interested in lovemaking, don't allow her to rush you.
If she does, cancel the lovemaking date.
Tell her unless she gives you time to get her body aroused, it's not going to be pleasurable enough for her and you don't want to do it.
It's ok to let her pout or fight with you about anything that comes up.
You're a man. You can handle it.
Figure out what it's going to take for her to relax and surrender and enjoy having you pleasure her body.
Your job is it to take at least 20-30 minutes to get her whole genital area engorged.
(Put the word ENGORGEMENT in the search box above on this blog page and read all the posts we've written for tons more ideas.)
Make sure you have some sort of lubrication on her genitals at all times – this will help her get her own natural juices flowing.
Few women like your dry fingers or penis pulling at her skin. Yuck.
I personally like organic fruit and nut oils like avocado (my favorite), sweet almond, grape seed and coconut.
Manufactured lubes are full of chemicals and don't allow you to pleasurably and "tastefully" go from hands to mouth to intercourse and back again.
Food grade organic oils are edible and easily available at Amazon or an organic grocery story! Here are my favorites.  (not safe with latex condoms – use polyurethane)
Over time, her body will start lubricating again, because you're slowly and sensually seducing her and making her meet you by pulling away a little here and there.
The oils plus your stroking and massaging will help her natural lubrication flow.
Stroke her body with oil too. When she feels quenched it helps.
Make her drink lots of water and keep her hydrated.
Wetness comes and goes for every woman, depending on where she is in her cycle.
Hormones play a MAJOR role in her ability to self-lubricate.
If she's over 35, she might need some hormone replacement therapy (HRT), even a mild addition of estrogen, to keep her skin (including inside) supple.
And/or she might need a topical estrogen or progesterone creme to put inside her vagina when it feels dry or the vaginal sphincter gets irritable due to hormonal fluctuations.
HRT and topical creams can be combined when she needs extra help.
Go with her to a good Gynecologist/Endocrinologist and help her listen and figure out what to do.
Support her in getting good care, work your medical system because finding the right combination of hormones that balance her and the right topical cream is a process of trial and error. There's no one perfect answer. She just has to try, see how she feels, modify and try again until she gets the right mix of estradiol, progesterone, even testosterone.
I've interviewed Dr. Debra Metzger all about how all this works and it's coming up as a new module in Revive Her Drive if you want even more information.
50, 60 and 70 year old women are having off-the-hook great sex with lots of their own vaginal lubrication.
If she has a patient partner, willing to get her HRT and topicals dialed in, use natural lubrication that feels good to her, take your time and get her engorged, and woo and seduce and arouse her body with sensual stroking and sweet talk…
She CAN be wet and juicy for you.
She wants to feel aroused.
Help her get there with all this good advice.
Let me know your questions.
Sensual Patience Is Pure Pleasure.
Note: I'm not a doctor, nor do I play one on TV. Please, go find a super great gyno for her and get this handled. It's pretty darn easy once you just break it down and work it through.
With love,
Susan Bratton