I attended a workshop called, "Reclaiming Desire," with Deborah Anapol [The 7 Natural Laws of Love] and Dossie Easton [The Ethical Slut] in Marin, California this weekend and here's my synopsis.
Lack of desire doesn't mean you're broken. First, Dossie and Deborah cite Jack Morin's work in "The Erotic Mind: Unlocking the Inner Sources of Sexual Passion and Fulfillment."
"Arousal depends on the existence of two things: Safety and Risk."
How To Cultivate Desire
If your safety conditions are met and there's some edginess and adrenaline involved in the sexual opportunity, desire will be present.
It's imperative, if you are leading your woman into arousal, to understand thoroughly her "safety conditions" and what she'll find "risky" that will still maintain her conditions for safety.
For example, she might want to have a hot make out with you in the back seat of your car parked on the street outside the restaurant after dinner IF the windows are dark enough that no one can see inside.
She might be willing to let you massage and stroke her beautiful ass as long as you don't touch her directly on her anus.
What would be edgy but still safe?
This is the line of thinking to pursue to keep desire glowing.
What Prevents Desire?
I also learned that the opposite of desire is not the absence of it. There is no "opposite of desire."
When you feel desire you experience emotions such as lust, passion, longing, wanting, craving, tingling, willing…
What covers up desire is feeling the opposite, such as boredom, apathy, emptiness, anger, fear, numbness, coldness, self-loathing, depression, pain, indifference, apathy or being controlled.
"Our natural state is desire, but it gets covered up by unfelt emotions you're carrying around," says Deborah Anapol.
If you want to increase desire, find out what is covering it up. Solve the issues that prevent you from feeling desire.
According to Dossie, the way to increase desire sexually is to realize that feelings of desire must start with a life of passion, a desire to experience all the goodness of life, not just sex.  Become someone that others desire. Get out of the narrow focus on sex, turn it around so you are the object of desire.
She says, "Tantric understanding of desire or passion is that it's not focused on a person, it is a life full of desire."
I couldn't help thinking about the parallel within Revive Her Drive where the game plan for turning your woman on starts first with "bringing pleasure into her life every day." This is the Tantric approach – create a life of passion by focusing on pleasure in all its forms.
If You've Lost Your Capacity To Feel Desire
Deborah and Dossie went on to suggest you generate feelings of aliveness, increase your presence in the moment and bring that to your sensual encounter with your lover.
Though pornography and sexual experiences are often the two ways people seek desire, Dossie and Deborah suggest, "non-demand pleasuring" strategies such as Tango dancing, Sandbox (sexual learning and practice) Dates, Breathwork, Fantasy Exploration.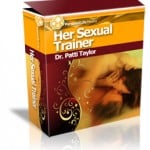 Note: The third eBook/audiobook in Dr. Patti Taylor's program, Seduction Trilogy is called, Her Sexual Trainer: Unlock Her Most Intense Sexual Responses." Learn how to play with fantasy to deepen her desire and pleasure.
Desire Is Life Force
Desire can be used up battling disease as well as battling negative emotions. When we put demand on it, it elicits the opposite affect. Blame and conflict show up in unmatched desire. If you think your partner has "less desire" than you do, that's erroneous thinking. Unmatched desire is a fallacy. We all have the same, infinitely expandable potential to feel desire. You'll need to increase your couples communication and be willing to talk about and listen to difficult feelings and then make conscious agreements to get from neutral to turned on again together.
Deborah suggests you "break the bubble," or change the homeostatis in your relationship to reestablish communication at a more integrated level. Start TALKING about what's preventing desire. Ultimately, vulnerable communication brings intimacy. That's why one of the Four Keys to Seduction that Dr. Patti Taylor talks about in Revive Her Drive is "Vulnerability."
One exercise Dossie recommends is "Yes – No – Maybe: If The Conditions Are Right." To play this game with your lover, get together and make a list of all the sexual and sensual acts you can think of and put them in one of three columns.
Listing ideas and seeing what's in your Yes and Maybe columns (always with the caveat, "IF the conditions are right.") can increase your potential for desire.
Let me know if you found this helpful by commenting below.
Photos from the Workshop
(Deborah Anapol's website is Love Without Limits)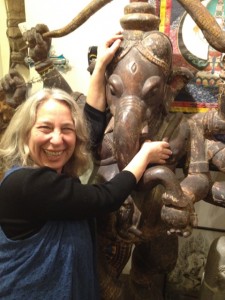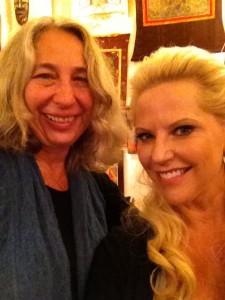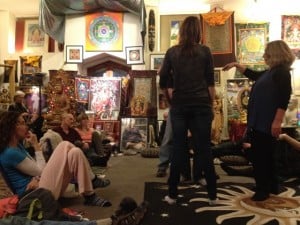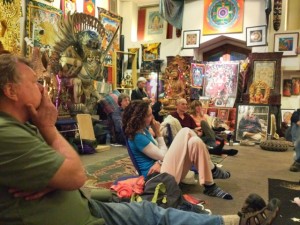 There's Always More
I'll be interviewing Deborah Anapol for Month 5 of the Mastery Interviews for Revive Her Drive customers. Some of the questions I'm considering are:
Once we've handled the unfelt emotions that are holding us back from feeling our desire, what are some of the ways we can generate more desire? What are specific ideas for what you call, "non-demand pleasuring?" (Tango, research dates, breath, fantasy, etc.)
What skills and possibilities can monogamous couples apply from successful polyamorous relationships?
Is there a way that a monogamous couple who is no longer sexually active open their relationship to outside lovers such that everyone feels emotionally comfortable? For example, say a wife no longer wants to be sexually active and a husband still does. Is there a way to leverage the tenets of poly relating to open the relationship for him and still have her feel great?
What are the 7 Natural Laws of Love that most couples in America today are not practicing, usually just because they are unaware of them? Where is the chasm? What are the three simple things anyone in relationship can do to add more love to their situation?
How can a person consciously "live in love" yet rationalize the pesky issues of being human when jealousy, anger, pettiness arise?
What are some of the most common and successful models of polyamory you see working well and why do you recommend these as composite models?
What are the skills and characteristics that make a successful poly relationship?
Describe compersion and the value of understanding one's jealousy as an opportunity for further self-growth?
If there's something you'd like me to query Deborah about, please write it in the comments section below.
With love,
Susan Bratton