Some Men DO and Some Men Don't [Expanded Orgasm]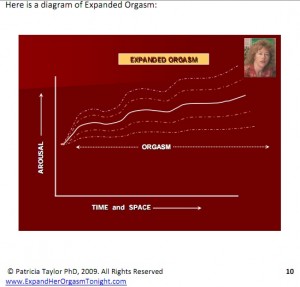 When I say, "some men DO," DO stands for "Deliberate Orgasm."
When you DO a woman, you are giving her an expanded orgasm. Some call it the 30-minute orgasm, though it can go much longer…
Women, being multi-orgasmic, can actually be stroked in such a way as to extend the time that she feels that moment of climax, just before she goes over the edge, in some cases for a half hour or longer.
Can you imaging coming for a half hour?
Women who have partners that DO them, experience this all the time.
Tim and I have had an Expanded Orgasm practice together for going on six years. We studied from many teachers who have direct lineage from Victor Barranco of More University before we chose Dr. Patti Taylor to create, "Expand Her Orgasm Tonight," our home study course that has 21 play dates that teach a couple how to hold a woman in an expanded orgasmic state.
If you're not yet on Dr. Patti's email list, sign up here and she'll send you 3 free Pleasure Reports which explain how Expanded Orgasm is different than simple, clitoral stimulation and why this series of strokes allows a woman to get to and stay in a series of increasingly pleasurable, stacked and expanded orgasms.
Expanded Orgasm
or DOing is the single best way to engorge your woman for the most delicious lovemaking you've ever experienced.
This is not multiple orgasm, it's a way to make her come for as long as you both would like.
When I speak with other women who have this practice with their partners, they say it's the single most important activity they do in their sex lives, and often, in their whole lives.
Expanded Orgasm has a profound impact on a couple in so many ways. Read this ==>
With love,
Patricia Taylor