What Husbands Can't Resist – Seduction Skills for Women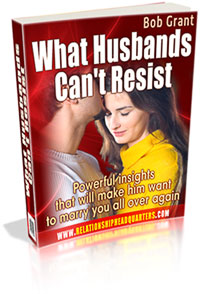 Turn about IS fair play, Darling.
I'm always teaching you guys who to seduce your woman, but…
How DOES your woman seduce YOU?
I did a little exploring and found this:
***What Husband's Can't Resist***  <=== Click Here For More
Some of the tidbits are so intriguing!
The Art of Getting Your Husband to Do the Things You Want Him to Do —  When you master this art, you'll not only get him to obey your wishes (whether it's putting his dirty socks in the laundry basket or getting a better-paying job) and he'd be willing and happy to do all that you ask of him. (see page 13)
How to reignite one of your husband's biggest turn-ons – Most women seldom  realize this, and therefore miss out on an opportunity to capture their husband's attention (see pages 10-11)
The absolute best way to make a dramatic improvement in your marriage instantly — this is the recipe for joy in any marriage.  When your __________ exceeds what you _____________, you will experience joy — guaranteed.  (see page 56)
The crucial ingredient that is often missing in communications between husbands and wives – How to apply this ingredient into any marital conflict, dispute or disagreement to arrive at a fair resolution that is mutually beneficial (see page 76)
Why submission to your husband (i.e., selective yielding of power to him versus surrendering complete control to him) is one of the most powerful strategies for making your husband more emotionally dependent on you, more attentive to your needs, and dedicated to your happiness (see page 81)
How to identify your husband's primary fear (yes, all husbands have one) — When you identify this fear that drives a large part of his behavior — and you're able to handle it appropriately, you'll literally own his heart.  This is the key to making your husband closer and more loyal to you in ways you can't even imagine — and in his eyes, there will be no other woman more perfect for him than you.  (see page 21)
NICE:
The one thing you can do in a split second to make your husband feel like he's married the woman of his dreams (see page 29)
What SEX really means to a husband (yes, it does go beyond just physical gratification) – and how sex can make a man cherish, adore and protect you the way a man takes care of a prized object of desire (see pages 36-37)
The highest compliment you can give your husband – and no, it's not praising his physical appearance, which only works on women, not men (see page 44)
Instead of saying, "I need to talk," here are two sentences you can say to him that are guaranteed to get you his undivided attention for a few minutes.  These sentences will NOT get his guard up or scare him off in fear you're going to talk endlessly and overwhelm him with words or emotions (see page 63)
MYTH:  Once a man is married, he is incapable of romance.  How you can rekindle the fire of romance in your marriage by cranking up your feminine mystique — and causing your husband to become a more romantic guy than you ever thought possible! (see page 54)
The seemingly harmless things wives do that make their husbands feel stripped of their manhood and, therefore, more tempted to run to the arms of another woman (see page 12)
How to make your husband feel powerful so that he'll always want to be with you (see page 29)
Why learning the proper way to handle conflict with your husband is the ultimate secret to giving him his greatest need – and thus making him want to give you all that you need (see page  32)
What is the most sensitive organ on a man during sex?  No, it's not that obvious organ.  Neither is it his skin.  (That's only true for women – but not for men.)  There is another organ that is far more susceptible to arousal during lovemaking.  When you discover the right way to arouse this, his desire for you will skyrocket – and he'll want to please you even more.  (see page 43)
Why you should NEVER give your husband advice – unless he begs you to (see page 47)
How to make your husband willing to listen to you and try practically anything you suggest (see page 32)
Why your husband's seemingly indifferent regard for your problems or your pain does NOT mean he doesn't care about you.  The secret behind this bizarre behavior of husbands that wives often misunderstand  (see page 49)
The most pervasive killer of romance in a marriage – If you and your husband keep doing this common activity, you can bet the romance you crave will always be lacking (see page 57)
How to enable your husband to experience the kind of contentment that he so desperately craves, and help him to be more fulfilled (see page 46)
The 15 words you can say to your husband  when you're lonely and need reassurance — These words will get you the positive and supportive response you want from him every time (see page 9)
Why does it hurt your husband when you lose pride in your appearance?  You'll never believe the answer to this — and it's not what you think! (see page 11)
A simple exercise that motivates your husband to do things that set your heart on fire and make him a more romantic husband in your eyes.  Husbands love this exercise because they won't have to read your mind or resort to guesswork to know exactly how to please you (see pages 59-60)
The word-for-word speech you can give your husband when you need him to just listen to you talk about your feelings and not have him try to fix your problem.  When you give this speech enough times, you train him to be a more empathetic person without making him feel worthless for not being able to fix things for you. (see page 52)
What is the real reason your husband married you?  The reason is often quite different from the reasons he thinks he married you.  It's not just because you're pretty, or you're his type, or you have a wonderful personality.  Discover the unconscious reason why — of all the women in the world — he chose to marry you, and how you can use this discovery to create an enduring marriage. (see pages 16-17)
Why your husband's moods, or occasional lack of affection, rarely indicate that he doesn't love you anymore – or that his love for you has diminished.  If your husband's love does not SEEM as intense as it used to be when you were dating, here's why.   (see page 10)
Irrational things a wife does that makes her husband stop trying to please her altogether.  Are you doing these things?  (see page 8)
Bob Grant, "The Relationship Doctor," offers a GUARANTEE:  "Preview the e-book for 8 weeks (56 days), and try your hand at the strategies I reveal in it — so that you can experience the amazing results for yourself.  If you can find a more results-producing program elsewhere for making your marriage sizzle and capturing your husband's devotion, your entire purchase price will be refunded.  Or, if you're less than 100% satisfied with the e-book, just send me an e-mail within 56 days of your purchase, and your refund will be issued immediately.  The book will be yours to keep for FREE."
If you're a guy, read this and tell your woman what you'd like her to do to you. Why make her guess? Great ideas in here. Go for it.
***What Husband's Can't Resist***  <=== Click Here For More
A similar book, from Rory Ray is this – check it out too. They both have mailing lists with good info:

With love,
Susan Bratton