DESIRE is forged from the combination of safety and risk/variety:
Perhaps you want to make love standing up in an ELEVATOR..

Or you want to give her MULTIPLE orgasms and she is happy with "one and done…"
If there's a difference between your appetite for a particular kind of sexual position, concept… and hers, try this list:
10 STEPS TO ENCOURAGE HER SEXUALLY
I wrote it because:
Many WOMEN are aware of and want the experience of ejaculatory orgasms, but more MEN actively seek and purchase my information that teaches them how to make women squirt.
I don't carry any judgement, this is simply what I've observed over the last four years since I started my Female Ejaculation Workshops and online home study courses.
That mean that guys are trying to figure out how to talk their partners "into" squirting.
This is just one example – most partners have different appetites and interests.
Use these 10 Steps below to continue to explore and try new things.
Modify this to fit any desire you have that you want to embolden your partner to try. (replace "female ejaculation" with "multiple orgasms" or "having sex outside the bedroom," etc.)


IF SHE'S NOT AS INTO IT AS YOU ARE
Here are some things you can do to encourage her:
1. Educate her that ejaculation is a natural body response that every woman can have
2. Teach her about her own anatomy and all the sensitive, beautiful parts of her
3. If she's open to it, watch the artistic, sensual video series within Female Liquid Orgasm with her so she can see other women's positive ejaculatory experiences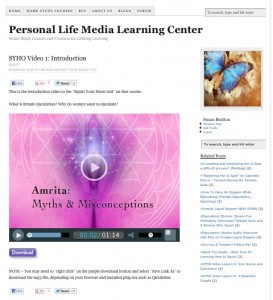 4. Let go of your goals around making her squirt
5. Notice baby steps on the path to increased orgasmic sensation
6. Praise her, compliment her on her body, give her positive feedback
7. Be authentically vulnerable about the fact that seeing her enjoy her orgasmic potential is a real turn-on to you and explain in as much detail as you can why this is so for you
8. Expect her energy and enthusiasm to ebb and flow
9. Be very present with her when you are having sex of any kind, making sure that you positively and gracefully accept all of her body and mind's natural reactions, no matter what they are
10.Hold her, love her, find joy in your togetherness where ever she is in her sexual evolution
Bottom line, if you want to lead your partner into new experiences, remember to take the time to educate them, let go of your goals, notice baby steps and encourage her, be vulnerable about your needs, be very present with her, accept what ever happens and encourage her!
If you have other ideas that might help men along this journey with you, please post them in the Member's Forum or here on our blog by commenting below.
With love,
Tallulah Sulis