Meditate your soulmate (must-try audio exercise)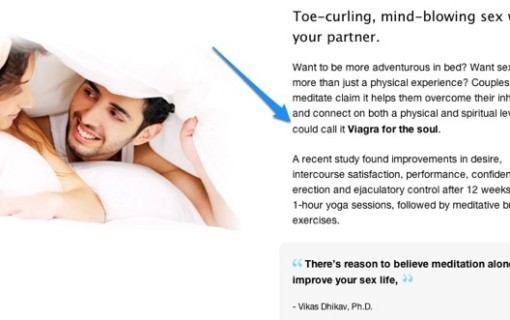 I have an incredibly valuable gift for you today.
And it comes from my friends at Mindvalley, one of the world's biggest online personal growth publishers.
It's a free meditation audio. But with a difference.
>> Because you've NEVER heard anything like this before <=== CLICK TO LISTEN


The audio uses a next-generation sound technology called Omharmonics, which Mindvalley has spent the past year developing with world-class consciousness engineers.
The result is you'll be meditating like a Himalayan monk in minutes – even if you've never meditated successfully in your life.
Why is this so important to YOU in your journey to attract The One?
Because like wine and cheese, meditation and soulmate-seeking were made for each other 🙂
Meditation creates a deeper understanding of people's feelings and emotions, leading to stronger bonds with your family, friends, co-workers and soulmate.
And there's actually scientific research to confirm this. In a 2009 article in Psychology Today, psychologist  Marsha Lucas Ph.D reported that meditation rewires the brain for better relationships by encouraging 'tuned-in' conversations, emotional resiliency and enhanced intuition, among others.
And according to Mindvalley, Omharmonics makes meditation effortless.
No more mental chatter. Or falling asleep. Or getting restless. Or struggling to find the time to practice.
Could this be your answer to finding your soulmate?
Grab a pair of headphones, set aside a few minutes, and be the judge:
>>> Go here to download and listen to your free Omharmonics audio.
Resonate With Your SoulMate,
Susan Bratton
P.S. We're one of the first communities in the world Mindvalley is sharing this with – and it's 100 percent complimentary 🙂
>>> Go here to download and listen to your free Omharmonics audio.
P.P.S. Another freebie for ya. [VIDEO] Tantric Sex Ritual (safe opt-in) <=== CLICK HERE TO WATCH
Goes really well with the Omharmonics music for lovemaking.