Lovemaking Music – Enter A Trance State [Full Length Audio Sample]
Have you experienced erotic passion so surrendered that time stops as you lose yourself in your lover?
THIS MUSIC, made to put your mind in a trance state to make meditation easier, makes time stand still.
This music is FANTASTIC FOR LOVEMAKING!
Two weeks ago I emailed you about this free sampler and I just wanted to effusively crow about Omharmonics AGAIN in case you missed it or were busy.
I'm LOVING this music and said to Tim the other day, "I'm going to tell our members one more time about Omharmonics because MY body grooves to it sensually."
I think it's the binaural beats and heartbeat syncopation built into the new-agey sound.
Nearly 4 hours long, Omharmonics is silvery and elegant… you can listen to it for hours.
No getting up to change the playlist… just make love as long as you'd like.
Download this free audio sample of Omharmonics,  a series of 15 and 30-minute meditation music that I am loving for loving and let me know if you like it too.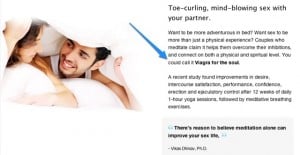 Get one of these Amber CFL's, a little organic avocado oil, some lingerie and the Omharmonics playlist and give your lady a 30-minute Expanded Orgasm tonight.
That's what I'll be doing. ;-P
To Your Aural Pleasure!
With love,
Susan Bratton