FWD: Turned On + Ignited = Love
I'm forwarding you this invitation from OneTaste, the same folks that make Goldfinger and that awesome organic beeswax lube.
I've been trained by this group of amazing sensual practitioners and it irrevocably altered my view of myself sexually for the better.
Their teaching is modern, soulful and genuinely life-altering.
As a member of my group, you have self-selected the path of sensuality as a crucial part of your growth.
The OneTaste team can shepherd you in live and tele-class training in a way that will make your growth feel safe.
If we did Personal Life Media live classes, I'd want them to be like team OneTaste's.
Here's an email about their classes that I would like you to consider for yourself:
Here at OneTaste we believe in
Turned On Women and Ignited Men.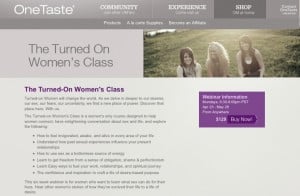 And, we know that sparks fly when these two connect (or at least sparks from the left index finger).
There's a path for women, a path for men and then the two connect through OM.
It's sort of like summer camp…boys on one side, girls on the other — the lodge in the middle. Only, our lodge is full of lube and OM nests.
Women, the Turned On Women's class is coming up (this week). This class is brought to you via tele-cast, so you can attend from anywhere in the world.
You will learn how to live invigorated, alive and awake, how to use sex as a bottomless energy source, and connect to a hip group of women who are turning on!
***********************************************
Use Promo Code PLM to save 10% off the class.
***********************************************
Men, the Ignited Man's class also starts this week. There is a 6-week, in person option in San Francisco or a tele-cast version.
This is your opportunity to meet and champion a new way of relating.
This new way of relating changes your relationships with women, with men, with society, with yourself.
A class that teaches you how to have real friendship, real love, and real sex.
***********************************************
Use Promo Code PLM to save 10% off the class.
***********************************************
Here's to a world where Turn On and Ignition meet at OM.
If you attend, let me know what you liked best about it.
ADDITIONAL RESOURCES:
With love,
Susan Bratton