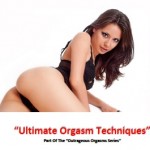 This week we gals are fully focused on new ways to give her **different kinds** of multiple orgasms during lovemaking.
Multiple Orgasms Squared.
Get it?
Not just 2 or more clitoral orgasms.
Beyond that.
Many orgasms of different kinds…
Like in Adam Armstrong's Master Plan:
A clitoral, then 2 vaginal from G-Spot or deep spot fingering, then one from intercourse or similar.
________________________________________________________
"Ultimate Orgasm Techniques" <=== Master Plan [Website]
________________________________________________________
"Sloane & Adam On Sexual Domination and Dirty Talk" <=== 3 Dominant Moves To Try Tonight [Audio]
– Why Sexual Domination is not B D S M and how to be dominant in the bedroom in a way she'll beg for more.
– And how Erotic Bedroom Conversation is superior to "dirty talk" and exactly what to say.
Everything we produce is female-friendly.
You should be teaching you woman everything you learn, OK?
Knowledge is sexy!
Plus, hear Sloane describe, in real time, the fingering Robert gives Ripple as he's giving her three climaxes in a row in this free 6 minute audio.
A verbal, detailed account of multiple orgasm. <=== [Audio]
Download this free, private Assessment Questionnaire from Tallulah and Sloane's "Making Her Multi-Orgasmic" webinar and rate yourself on your knowledge of giving women multiples.  <=== Strength's Assessment for Men
Answer 13 easy questions to see what your strengths are.
Additionally, we felt it would be in service to your sexual growth to interview Maverick Masterson about his coming of sexual age so you can hear about his progression to mastery, how he views lovemaking and exactly what he does when he gives women hours of all kinds of orgasms.
Post your own burning questions for Maverick here. <=== Ask Maverick
We are also finishing up book reviews on 50 Shades of Grey, Red Hot Monogamy and Transcendent Sex – coming soon.
And Susan is going to be featured on Adam Gilad's "State of Dating" tele-summit with a segment called, "She's a Yes to YOU" – also coming soon.
It's All About Coming,
Sloane, Dr. Patti, Tallulah and Susan
P.S. We love you guys! Kisses from all of us.
P.P.S. If you didn't receive Sloane's new eBook "Sensual Texts: Copy & Paste Romance" with your purchase, send us an email and we'll send you 40+ pages of her panty-dampening "done for you" texts.
If you are not currently texting your woman, you are missing out on an amazing
way to stay connected to her even when you're not there.
If you think she won't like texting, I'll bet you Sloane's eBook she will. <=== Try me.
*A woman can experience orgasms from stimulation on many points in her body including clitoral, G, Deep, AFE, PFE, Perineal, pelvic, breast, oral, the locations are endless and transcend the boundaries of anatomy.
With love,
Susan Bratton