New eBook: "Sensual Texting" by Sloane Fox
With 135 copy & paste classically romantic texts that will make her swoon.
[Gift with Purchase – See Offer Details]
Sensual Texts Free eBook Offer Details:
Choose Magnetic Messaging (dating) or Text The Romance Back (in relationship) through ===> THIS LINK <=== and get Sensual Texts by Sloane Fox free with your purchase. ($47 value)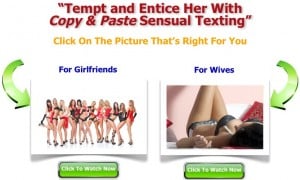 Simply email [email protected] with your receipt and we'll send you the 40 page ebook with over 100 classically romantic texts she'll love.
These texts go from flirty to naughty and are copy and paste easy to delight her!
Here are additional resources for you to learn more about the power of romantic texting:
How To Get Her Number So You Can Text Her
The 5 Rewards for Sensual Texting
Texting Reinforces All 5 Pillars of A Passionate Relationship
Arouse Her All Day While You're Away With These Sensual Texts
Inception: How To Lead Your Woman's Mind With Texting
3 Texts That Get Her Chasing You – Even Works on Wives!
Why "text conversations" Annoy Her. . . (and what to do instead)
Want To Be A Text-God?
Online home study courses on texting from our friends. We recommend these courses if you want to get really good!
Magnetic Messaging [Turn phone numbers into dates.]
Text the Romance Back [A system for writing your own romantic texts.]
Text Your Wife Into Bed [A system for writing your own evocative texts.]
With love,
Susan Bratton