Hi Tallulah,
I'm in need of some help. I'm frustrated sexually. I'm going through a tough patch in my marriage that will probably lead to the D-word some time down the road. I'm 45 years old and began experiencing peri-menopausal symptoms about 10 years ago, meaning I've gone into full fledged menopause. I still feel arousal but I have very little lubrication and for some reason I find it difficult to stimulate myself. The only thing I have in my arsenal are my fingers. Am I trying too hard or putting too much pressure on myself? I want to experience the squirting orgasm. Can I do this myself given my female situation?
Thanks,
Jennifer
Dear Jennifer,
I am so glad you decided to write to me. Why don't you ease the way for your own success in the following ways:
1) Consider hormone replacement therapy to increase your body's ability to lubricate.  We have many posts on this blog about how it works. Just type "hrt," "menopause" and "lubricate" into the search box to the right to access multiple articles.
2) Use additional lubrication. We gals like different lubes for different reasons with the most versatile being organic avocado oil.
3) Try an adult toy designed specifically for G-Spot stimulation and give yourself a blended orgasm – stroke your G-area with the toy and use a vibrator or your fingers on your clitoris at the same time.
4) Consider buying my online program called, "Squirt Your Heart Out." It includes my toy guide and instructional videos of women squirting solo and with toys as well as with partners. It also includes anatomy instruction and exercises you can do to increase your squirting pleasure and ability.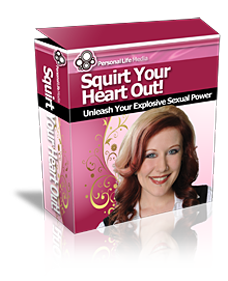 With love,
Tallulah Sulis