8 Free Chakra Images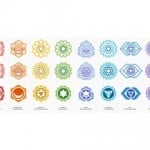 I found this free download of the 8 Chakra images to share with you.
Here's a link to an excellent explanation of what the chakras are and why you'd find this model useful for thinking about your life.
And there is some ethereal art in this lightbox you might enjoy.
Let me know if you like this kind of information.
I have studied Tantra, Taoism, Kashmiri Shaivism and many more of the esoteric sexual lineages and would enjoy sharing more with you.
To Living Traditions.
With love,
Patricia Taylor