Dear Patti,
I am completely on my own when I comes to learning this stuff and my cousin and others that I talk to are not supportive. They say that I don't need to be reading this stuff and you just pick it up; I know they are wrong.  I want to learn to make love the right way, and overcome my ED and PE problems.  Several of the medications that I take interfere with erections, my health has been a deterrent.
I haven't dated in around 8 years, when I broke up with my last girlfriend.
She made my life a living ____. She demanded sex 3 or 4 time a day, every day  – after 4 months I was worn out which was one of the reasons I broke up with her.  Over the past several years I have been afraid to approach women and afraid of rejection.  I have now overcome most of this, but I don't know how to talk to women and get a date happening.
Shawn from Canada
Dear Shaun,
Thanks for opening up and sharing your story. While you have certainly been  to the school of hard knocks… I have a little secret for you… you are far from alone. Many people have… (including me too) but also potential lovers of yours. Many women are lonely and would love to meet a man who had read up on how to give a woman pleasure and is willing to practice on how to become a better person. I've pulled myself up out of quicksand and have known many others to do the same just when it seemed the whole world had "gone dark." I have had health problems and I counsel many with health problems.
It's a funny thing. Pleasure heals health problems, even including ones you'd never imagine. Fun is one of the best healers in the world. It's the opposite of a vicious circle. It's a positive cycle into better and better and better. So the things you fret about today may not be permanent. Are you willing to find out?
The key is your INTENTION!
You can get low-cost therapy, or join a forum, or support group, or even just go on Craig'sList or okcupid.com or match.com (etc.). Be transparent, candid, vulnerable, and also, upbeat if you can… you can, right?
Let women know that you want to put attention on them. You are far from perfect – you have some "battle scars", but you are willing to learn from them how to do it better, do it to their satisfaction and joy. You have wounds but a willing and eager to please. Etc… get my drift? I am imagining that despite your past problems you also have some engaging sides to your personality. You have a light shining within you that makes you special and wonderful to be with. Let that out.
In the end you reap what you sow and sow what you reap so I think this is a great strategy. Let your heart open, acknowledge your pain, yes, but be willing to allow yourself to open to love and pleasure. Reread this last sentence until you get my drift. Then go out there, and take it one step at a time. A coffee date. Honesty. A walk in the park. Attention on her. More attention on her. And so on. You will bask in the sunshine of the one who is right for you. But you need to get out there.
And to support your success, my Seduction Trilogy is a great investment! Please consider it. What excuses? When it's about the quality of your heart, your life, and that of a lonely lady waiting to meet you too.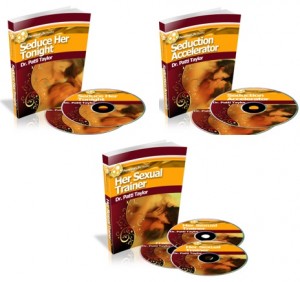 Best of Intention,
With love,
Patricia Taylor