I just finished this book, "Breathe Deeply, Laugh Loudly" and I already feel better.
The author says nearly 80% of us suffer from severely restricted breathing patterns – only taking in 20-30% of our actual lung capacity.
We shut ourselves down, including our breath, so as to armor ourselves against hurt and bad sensations.
Judith believes that "effective breathing is your most important tool for creating physical, mental and spiritual well-being."
I also know that breathing together as lovers, Tantric breathwork and deep breathing can create hotter, more passionate lovemaking. Judith says Transformation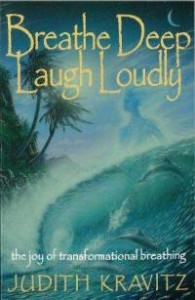 Breathing allows you to "experience a delicious remembrance of our essential oneness with others."
Conscious Breathing Exercise "Breath To Joy"
Sit or lie down comfortably; then take a moment to get quiet. (Do this with your partner if they are willing.)
Notice how you are feeling in this moment.
Place your hands on your belly, open your mouth wide, relax your jaw and take the biggest breath you can imagine. Breathe through your mouth only, bringing the air all the way down into your belly.  Feel your abdominal muscles working, even if you must lean back and slouch a little, and consciously push your belly out against your hands while inhaling. Then feel the inhalation rise up into your chest.
At the top of your inhalation, when you feel full to the brim and no more air will fit in, just let it fall back out in a big, relaxing, voiceless sigh.  Then without pausing, immediately inhale again, exactly as before.
Meanwhile. smile in your mind (your mouth is busy receiving) and think about how grateful your cells are for this sudden attention. Take in self-appreciation for what you are doing. Take fifteen more breaths without pausing between inhaling and exhaling.
Try to build up to 100 breaths a day if you can, or at least, each time you notice yourself breathing shallowly, or holding your breath, fill your lungs with air a few times to get your body breathing fully again.
The author says, The more deeply we breathe during a sexual interlude, the more we can relax and enjoy, give and receive, and ultimately experience complete communion. This also intensifies the senses – both physically and emotionally. When the body armor is relaxed and emotional walls are down, the mere touch of another can bring ecstasy. It only requires our intentional focus on that which unifies our souls: the breath.
Relaxing our body and mind allows us to receive and enjoy our lovers' touch so much more that the climactic experience reaches new heights. Breathing moves energy throughout the body, and with conscious intention and relaxed focus, orgasm can become more readily available and all-encompassing.
Comment below and share your experience with others.
With love,
Patricia Taylor