"Honey, Lets do Chingalinga Tonight" [Position]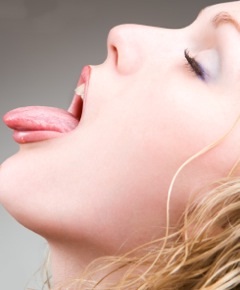 We had this super hot lovemaking session today and then went out for Mexican food for dinner.
On the menu was a dish called, Chingalinga, so we named what we did in bed…
The Chingalinga! <giggle>
Here's what we did,
First, I laid on my back, along the edge of the bed, with my head right at the bottom corner.
Before we even did our Chinglalinga, we had a hot make out session. That gets me turned on and my lips and mouth warmed up and engorged.
Next, I laid on my back, along the edge of the bed, with my head right at the bottom corner. My neck was relaxed and my mouth was open. Then my man fed his member into my mouth. He stook at the edge of the bed, on a little pillow to get the height right, and dropped his beautiful manhood right into my mouth.
By letting him slowly ease himself in my mouth, I could relax and just enjoy. I didn't need to move, other than to suckle and lick and give him pleasure. He would give me breaks and he took a very long time warming me up and giving me more and more of himself.
When I was really getting into it, I then added another level of pleasure by turning on my vibrator and pleasuring myself below as he handled the top.
We had a lot of fun, just taking our time and enjoying each other.  I find a wonderful amount of freedom in being guided, rather than guiding his oral pleasure.
Try it with your lady and see how you do. It will take some stopping and starting and communicating so that she doesn't get overwhelmed by you being in control of the pumping action. Make sure she always has breathing breaks. Try tapping her lips with your member and sliding it across her lips for added turn on.
Think about "engorgement" in her mouth and lips as well. Allow her body to get warmed up to your tapping and sliding. Remember, her lips and throat are also full of erectile tissue. The more you engorge them, the more pleasure she will feel as she enjoys tasting and suckling you.
And remember the "aural" pleasure too. The whole time you are guiding yourself in and out of her, watching that the angles work for her mouth and neck, you can talk to her. Tell her how good it feels. Tell her how beautiful she looks. Tell her how much you appreciate her appetite to try new things. Tell her what a good girl she is. Tell her how much she turns you on. Tell her how hot the scene is. Tell her what a good lover she is. Tell her how satisfied you are when you get to connect with her this intimately.  This is the kind of "dirty" talk that makes a woman surrender to her passion.
If you come up with some fun twists on this idea, please post it on the blog below and share it back with us.
Note: Did you see Dr. Patti's "Conscious Breath Exercise?"
I couldn't do the Chingalinga without practicing breath control.
Love this post? Learn more secrets to unlimited oral pleasure here ===> The Blow Job Secret
With love,
Sloane Fox