Hormones: How To Know What's Going On With Her? [Funny Pic!]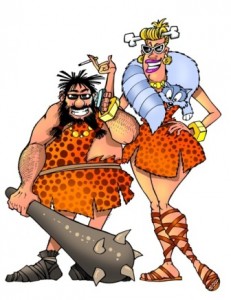 Ugga Bugga!
To become a MASTER at romancing your woman…
You must not only know what's going on with your partner hormonally.
You must be able to increase her Love Chemicals so she'll desire you more.
Her hormones override her rational logic and control how much of you she feels at any moment.
Let's go back in time to the life of the Cave Man and Cave Woman.
Four brain chemicals ruled her mating instincts:
Testosterone: The chemical of lust drives to have sex and propagate her species.
Dopamine: The chemical of reward actually peaks before we get the reward. It's triggered by novelty.
Oxytocin: The chemical of trust and bonding helps us identify friend from foe.
Prolactin: The chemical of satiety. This hormone helps you feel fulfilled and satisfied by your sexual experiences.
To trigger these chemicals to turn on the romance takes a combination of Novelty, Danger and Polarity.
One of my girlfriends has her boyfriend rub testosterone cream on her clitoris when he's giving her Expanded Orgasm dates.
She says her orgasms feel even more exquisite.
But you don't need to buy Testosterone creme, you can trigger an increase in hormone production naturally!
To increase her Love Chemicals requires you romance her in a way that combines Novelty, Danger and Polarity.
You can learn more about Polarity here, and you can see that desire is ruled by the "love chemicals" coursing through her body.
How To Increase Your Masculine/Feminine Attraction <=== Free Audio About POLARITY
By starting with romantic activities, which open her sensually, you can amplify her hormones so that she actively seeks touch and physical intimacy with you more often.
Then as you increase her number of orgasms, you naturally increase her Love Chemicals and it becomes a virtuous circle that builds on itself.
Even if a woman has gone through menopause, even if her ardor has long evaporated, it is completely possible to replace and grow her "Love  Chemicals" in her body.
I've been thinking a lot about this because Susan is just finishing up her newest eBook, "30 Romance Tricks… That Work Like Magic."
We're giving it to our customers this month as a holiday gift and thank you for your patronage. Then we plan to make it available for sale around Valentine's Day.
That's where this information is coming from. All the tricks are designed to increase her Love Chemicals because that's incredibly important. Every action you take to woo her should increase, not decrease her desire.
Increase Her Oxytocin Tonight.
Note: The world's leading expert on sexual chemistry is Susan Kuchinskas, author of "The Chemistry of Connection." This email includes a short excerpt from her eBook, "What The Caveman Knew," part of the Revive Her Drive online program which shows you how to increase her "Love Chemicals" naturally, so she'll want more physical intimacy with you.
With love,
Sloane Fox