Do you love to try new sex positions?
Sex positions are fantastic for creating all kinds of different pleasurable sensations. But did you know you can also use sex positions to help you last longer in bed?
The main position that most guys have sex in – the missionary position – is actually pretty bad for sexual stamina.
If you want to last longer, give one of these 3 sex positions a try.
Right now, I think you'll be pleasantly surprised at how big a difference this position can make!
And if you want to learn how you can last a lot longer in bed – as long as 30 to 45 minutes a night – check out the video at the end of this post that shows the shocking story of what really goes on inside women's minds.
Position #1: The "Grinding" Missionary Variation
The reason the traditional missionary position is NOT good for stamina is twofold:
1) Your entire penis is stimulated, from the back to the front. That means you're getting closer and closer to ejaculation with every stroke.
2) On the flip side, neither her clitoris nor her g-spot is being stimulated. That means you're moving towards ejaculation QUICKLY while she's moving towards orgasm SLOWLY.
One way to change this is to use the "grinding" missionary variation. To use this position, move your weight slightly forwards. Her legs can be open, or they can be lifted. Now, instead of going in and out, grind up and down. This gives her direct stimulation on her clitoris, while only stimulating the base of your penis, which is your least sensitive area.
If you are going to grind, make sure you don't grind too hard. To start, use a lot of lubrication (edible organic oil – like grape seed, coconut, avocado) and tap and slide your dick across her clitoris and into her G-Area lightly until you feel her reaching for more. When she's well engorged, she may like more of a grinding that slippery stroke.
As always, ask her for feedback with a multiple choice response: Would you like it harder, softer or deeper? Or whatever makes sense in that moment. When you give her a choice she doesn't have to think as hard and can stay in her highly aroused state from your thrusting.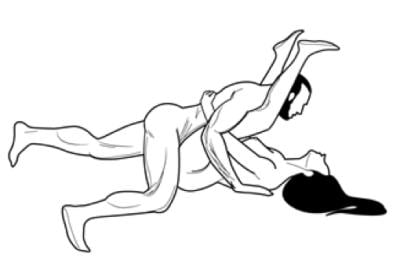 Learn to Boost Your Stamina
While this position can make a big difference, the truth is that if you tend to climax too early, a sex position alone probably won't resolve the issue.
Fortunately, you can reprogram your body to function differently. You can recode your "orgasm habits" so you simply last a lot longer, without even having to think about it!
To learn how, check out this tell all video from my friend Jim Benson:
=========> Watch This Free Video and Improve Your Sexual Stamina
Jim Benson is one of our coaches so I can personally vouch for the high quality of this information. He is extremely well trained, an excellent sex coach with a focus on men's erectile health.
Most men could improve their stamina with good results. Women prefer men who have staying power as lovers.
Using these sex positions can help you last a bit longer in bed, but they won't change the fact that your body's natural habit is to ejaculate quickly.
Fortunately, in recent decades researchers have learned a lot about what causes premature ejaculation. I'd like to share with you one of the biggest causes of premature ejaculation and first, the effect PE has on women. Clink the link above. This is helpful information.
Check out the rest of these Sex Positions: