It's true that sex positions can help you last longer. For example, the cowgirl, "girl on top" position (scroll down for illustration) is great for boosting stamina in addition to being darned sexy.
And if you want to learn how you can last a lot longer in bed – as long as 30 to 45 minutes a night – so you can give her all of you she can take, check out the video at the end of this post that shows the shocking story of what women really think.
Cowgirl "Girl on Top" Position
The cowgirl, "girl on top" position is great for boosting stamina. When she's on top, typically she'll be using shallower strokes than you when you're on top. Also, she'll also have the tendency to grind instead of thrust in this position.
Grinding lets her rub her clitoris against you, which feels highly pleasurable to her. On the other hand, for you, it won't feel nearly as stimulating. It's a great way to let her build up towards an orgasm while you're "cooling off."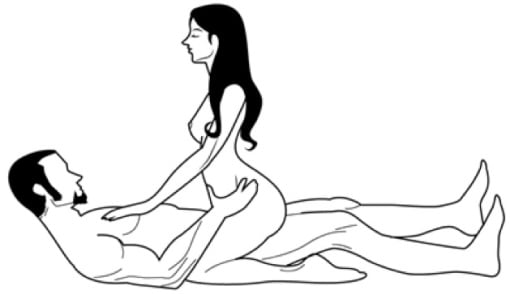 Learn to Boost Your Stamina
Take the opportunity to play with her breasts and nipples or draw her down to your face for a deep, passionate kissing session.
Cowgirl is one of three fantastic positions to try if you want to last longer in bed.
While this position can make a big difference, the truth is that if you tend to climax too early, a sex position alone probably won't resolve the issue.
Fortunately, you can reprogram your body to function differently. You can recode your "orgasm habits" so you simply last a lot longer, without even having to think about it!
To learn how, check out this shocking but true video from my friend Jim Benson:
===========> How to Effortlessly "Reprogram" Your Body to Last Longer
Using these sex positions can help you last a bit longer in bed, but they won't change the fact that your body's natural habit is to ejaculate quickly.
Fortunately, in recent decades researchers have learned a lot about what causes premature ejaculation. I'd like to share with you one of the biggest causes of premature ejaculation.
Jim Benson keeps up with this area of knowledge because he is also one of Personal Life Media's sex coaches who helps guys with erectile health.
This information comes from Jim, a VERY trusted resource and it's so often the case of what goes unsaid.
Check out the rest of these Sex Positions: