Gals, I'm copying you on this because if your lover has stamina issues, you'll want to read this.
In any given lovemaking session, switch from the grinding missionary position #1 to cowgirl position#2 to doggy style #3. . . but rest in between. Give her some hugs and tell her three things you love about her. Shower her with affection and then get her up into the next position before she comes down.
Switching it up gives you a little time to regroup and when you move her body around the bed for her into each position, she'll think that's so manly and hot.
She can use her vibrator very easily in doggy if you stack pillows under her to prop her up.
Make sure she's fully engorged before you have this much intercourse, or it could hurt her pretty pussy. Be gentle at first and warm her up. Then you can go at it in these three different ways.  And if you want to learn how you can last a lot longer in bed – as long as 30 to 45 minutes a night – check out the video later that starts with a true story told by real women that may SHOCK YOU.
Doggy Style 
Some men last a lot longer in doggy style. On the other hand, it backfires for other guys. Definitely try this position to see how it affects you personally.
In addition to potentially helping you last longer, this position is also one of the best for G-Spot stimulation because of the thrusting angle. That means this is one of the best positions for making her come. It's also very easy for her (or you) to reach around and stimulate her clitoris or for her to use a vibrator.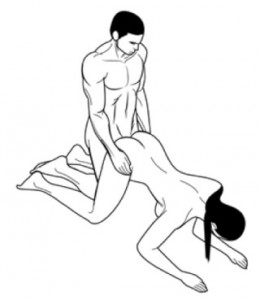 This is one of three fantastic positions to try if you want to last longer in bed.
Learn to Boost Your Stamina
While these positions can make a big difference, the truth is that if you tend to come too early, these positions probably won't resolve the issue. Using these sex positions can help you last a bit longer in bed, but they won't change the fact that your body's natural habit is to ejaculate quickly.
Fortunately, you can reprogram your body to function differently. You can recode your "orgasm habits" so you simply last a lot longer, without even having to think about it!
To learn how, check out this video from my friend Jim Benson (hold on to your hat):
=========> How to Effortlessly "Reprogram" Your Body to Last Longer
Jim Benson is a personal friend and he's also one of our coaches at Personal Life Media. He helps guys who have erectile issues, relationship or sexual issues in one-on-one sessions over the phone or Skype. He's a man you can trust. His experience is deep. And he's a stand up guy who lives to serve other men in their quest to be fully sexual beings.
Jim knows pretty much all there is to know about men's erectile health and he can help you learn easy ways to have more stamina and last longer during lovemaking.
Check out the rest of these Sex Positions: