Lovemaking Position That Helps Her Achieve Expanded Orgasm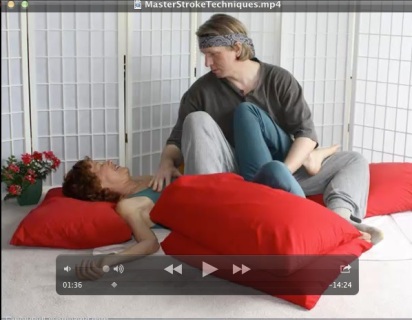 Have you been intrigued with the idea of starting an Expanded Orgasm practice with your partner but couldn't visualize how it works?
I made you a screen capture from a video inside Expand Her Orgasm Tonight that illustrates the standard DOing position.
That's me lying down and Daka Raj in the DOing position.
What if you could possess – deep in your bones – the skills of a master lover ?
• Can you imagine the satisfaction of giving your partner extended peaks of intensifying pleasure every time you make love?
• Do you yearn to free yourself from the frustrating or boring sex blocking you from realizing the awesome orgasmic potential within you right now?
• Are you ready to create more intimacy and reignite more passion than you ever thought possible?
• Men —what if you could discover what she really wants you to know about her deepest, innermost desire to be met … fully met … orgasmically … and exactly what you need to do to satisfy this desire?
• Women—do you secretly crave to become an irresistible magnet to your man – by deeply tapping into your true orgasmic nature?
• Wouldn't you love to unlock your hidden ability to drive each other wild with your very first touch?
Yes you can! Enjoy ever more fulfilling, more intense, longer orgasms.
Learn how to connect deeply and accurately with your touch, to experience full-being orgasms … not for seconds — but up to an hour or more
Discover the ideal lover's confident attitude, magic words, and perfect touch.
Have you experienced lovemaking where everything was effortless? Where both of you knew exactly what to do without having to think about it? Where the touch was sublime? Where you could literally feel your partner's pleasure? Where the words – and even the moans – were just perfect?
That's what this 21-day course is all about! You'll learn how to engage your 3 brains and your heart to achieve a full-body, full-being orgasmic experience.
Unlocking the secrets – balancing your relationship.
For millennia, master lovers have known secrets, passed only from teacher to student, in temples and cryptic texts.
They have remained secrets for thousands of years, because those who knew them became so powerfully attractive, that in many societies they were seen as a threat to the social order.
In today's world, however, the proper unveiling of this immense ancient wisdom will be a force for good—for restoring balance in relationships, and dramatically improving health through harmonizing inner chemistry.
You can be the beneficiary of this vast storehouse of knowledge, made readily available and simply explained, by master practitioner Dr. Patricia Taylor ("Dr. Patti").
Let me share one tip from the many powerful techniques packed into my 21 day program:
Engorgement is getting her ready—very ready! This is the single most important thing you can do with a woman on an erotic date. Why? Because you are bringing blood flow to her genital area, and getting her clitoris hard, just the same way that a woman would engorge a man's genitals.
Here are just some of the benefits of engorgement (you'll learn many more when you buy the program!):
• Everything you do, once she's engorged, will feel 10 to 100 times better to her.
• You will be able to find a woman's favorite spot on her clitoris … and stay on it! This will send her straight to Pleasure Heaven.
• The process of getting a woman engorged is easy and super-pleasurable to both of you.
Here's how you get her engorged:
• After appropriate foreplay, lubricate her genitals well with her favorite oil or water based lubricant, and then gently (you can use the Touch For Rapture technique that you will learn about in the Program) squeeze her outer labia — the fleshy lips at the entrance to her vagina — and her inner labia.
• You can also squeeze her clitoral shaft and hood. As you approach her, ask her to keep letting you know how much pressure she would like. The amount of pressure she enjoys can change dramatically as she becomes more aroused and engorged.
• Women usually enjoy more pressure during this phase of the date then you may suspect, but that can change from one date to the next, and even from moment to moment.
This is a great way to begin the genital touch part of any date, and men remember this: Both of you will have a whole lot more fun when she's engorged — just like when you're engorged!
Just between you and me, do you sometimes feel like you're all thumbs when it comes to sex?
Is this especially true when pleasuring a woman to orgasm with your hands? Then you'll be thrilled to learn that this step-by-step program is carefully crafted so that all you have to do is follow the simple lesson plan each day. It's that easy!
Maybe you're pretty sexually experienced?
Men, tell me this: do you ever yearn to break way out of the box you've been in, and take her to domains of delirious delight? And women, wouldn't you love to receive rapturous sensation at your man's touch? Follow me for 21 wonderfully playful "dates"—and enjoy a new level of erotic mastery you never thought possible.
Perhaps you're at such a level of erotic expertise that you wonder if you should still be reading this?
• Are you a man who can make your partner swoon in the mere anticipation of a date with you?
• Are you a woman who knows how to get a man to reach into your soul and take you on an erotic journey across the solar system?
That's perfect…because you're the kind of person that seeks expert advice and wants the leading edge technology that I deliver. The true expert yearns to exploit the last ounce of technique. They say "the rich get richer", and sexual experts know there's always a lot more. I'll make you an Olympic lover, I promise.
What if you are single?
Learning this material will prepare your mind and body to attract partners who desire an orgasmically juicy relationship. By taking this program, you'll learn what it takes to attract a truly spectacular mate!
What motivates me to share this amazing knowledge with you?
Expanded Orgasm is so powerful for me that I'm literally overflowing with orgasmic fulfillment — a joy that keeps growing with the sharing.
When I see loving relationships renewed, when I see the lushness of deeply-satisfied women and their thrilled and gratified men, I know I'm contributing something wonderful to the world. And to be honest, I'm helping create a world that I want to live in.
I also derive great satisfaction from knowing I'm carrying forward a vast and wonderful body of ancient wisdom, consistent with the cutting edge of neuro-science.
My program gives you amazing tools from the four domains of body, heart, energy, and awareness. Whatever stage of lovemaking experience and expertise you're at, this program gives you what you need now — and, what you'll need to move up to the next level.
Don't sell yourself short with programs that address only one of these four vital orgasmic domains. Don't you owe that to yourself—and your beloved?
My sex life continues to explode with ever-expanding love, unlimited joy, sensational pleasure, deep intimacy and orgasmic ecstasy (just to name a few!). I know my program—which has worked for thousands—can work for you! Don't sell yourself short .
Get this FREE eBook to know more how to give her expanded orgasm.