"The webinar is extremely well-done and nicely presented. I love the material and the tone. Good reminder! I am a bit of an expert on the subject but it's prime stuff. Bravo! Your webinar prompted me to retry all the good ideas on my girlfriend. She loves it!" — Michael G.
Get your own free, private lover's skills assessment quiz from my "Making Her Multi-O" webinar and rate yourself on your skills.
Give yourself 1 point for Novice, 2 points for Intermediate and 3 points for each Advanced checkmark.
Score your self in three areas of prowess:
Anatomy and Body-Based Expertise
Emotional Support Ability
Skills and Methods
  Making Her Multi-O "Strengths Benchmark" 
Free Questionnaire <=== How Good Are You?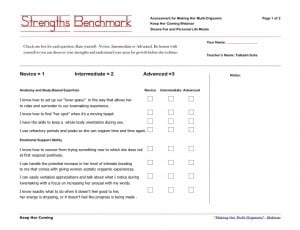 Tally your score — before and then after the webinar — to appreciate how much progress you made.
Add to your existing strengths regularly to…
There is a TON of free content about amping up a woman's arousal in this webinar. Go now and register, and if you can't make it live, you will get a replay link.