What Kinky People Can Teach You About Having A Hot Sex Life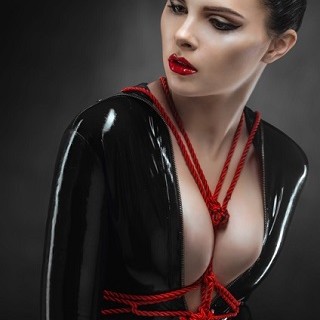 Kinky People: What They Know That You Don't [Polly Story #2]
If it makes you feel any better, Polly Whittaker, author of the new memoir, 
POLLY: Sex Culture Revolutionary
, has been "orgasmically challenged" for most of her life.
Imagine being the producer of sex parties where a hundred or more people would attend to have sex together and not being able to count on orgasming yourself.
KINKY ADVICE
Talk about working out your demons through the occupation you choose…
(says the pot to the kettle, since I didn't even understand what good sex was until I was at least 45 and now I'm a sex advice publisher, ha ha)
Polly's new book chronicles her life from her London-based latex fetish clothing design beginnings to founding Kinky Salon, a series of sex parties that have gone on for many years, lighting up the sex-positive San Francisco community with connection and affection.
Reading her memoir, you witness the emotional processing that has gone on in her life resulting in an experienced woman with wisdom to offer.
I knew she would have some smart advice, so I asked her, "What can a heterosexual, monogamous couple learn from openly sexual and sexually kinky people that would increase the passion and eroticism in their lovemaking?"
And here's what Polly recommends:
What could a heterosexual, monogamous couple learn from the kink crowd that they could apply to have a hot sex life?
One of the greatest tools of kink is the "safe word". You pick a word like "pumpkin," or something you're not likely to say in the throes of ecstasy, so you can scream "no, no, stop!" all you like without meaning it.
You can role-play ideas and characters and your partner will know with confidence that they don't have to stop unless you say your safe word.
If you want to explore an edge, then using a safe word makes it, well, safer. There's no grey area with a safe word. Consent isn't just implied, it's explicit.
If you want to try something new but you're afraid it will go too far, a safe word is the perfect solution.
What do open and kinky people do that the serially monogamous could apply?
Mainstream culture makes a lot of assumptions about relationships. There are a million stories told in movies and pop songs that tell you what love is supposed to look like.
People exploring non-traditional relationships don't have the same assumptions, so they need to communicate more to figure out if they're on the same page. They create the parameters of their own relationships rather than using a relationship model that already exists.
The process that open, kinky people go through with a new relationship is something that all relationships could benefit from.
Most polyamory advice books can be translated into great relationship advice.
"What do you need? What can you offer? What is your history? What's your STD status? What turns you on? What are you looking for?"
Those are the kind of questions that come up much earlier for non-traditional relationships than they do for traditional ones.
Thank you, Polly. You really delivered…
CREATE A SAFE WORD
A safe word is just good generally for any couple to have, even if they are not into anything kinky. And here's why.
Sometimes when you're out at a party, you can say your safe word to your partner and they will immediately be on high alert that "something is not right."
I use this with my husband, Tim when I need to be extricated from a weird or even mind-numbing conversation with some boorish person.
When your woman has a safe word with you, you get to be the masculine leader on whom she can rely.
A safe word increases a couples masculine/feminine polarity.
When you increase your polarity, you increase your animal magnetism… which results in hotter sex.
Plus, a safe word is like having your own private club with two members.
It's something that as a couple, brings you even closer together.
YOUR RELATIONAL PARAMETERS
It's already happening.  The next generation of lovers are redefining the rules and taking much of the smart learning generated by the Open Relationship and Polyamorous crowd, including getting on the same page about boundaries and desires right up front before engaging sexually.
Safe Sex Conversation <=== How To Have One
This level of conscious communication creates a level of safety between lovers.
Relationships have broken the mold of the Boomer and Gen X generations. Gen Y and Millennials are rewriting the scripts. And much of the wisdom of the new rules for relationships has come from the sexual revolution of which Polly was an integral participant.
What would your boundaries and desires be NOW, if you could rewrite YOUR relationship rules afresh?
We'd all love to know, so please share in the blog comments below for us to all savor.
Want more?
Here's a link to Polly's book, Sex Culture Revolutionary on Amazon ==>
This post is part of the Polly: Sex Culture Revolutionary Virtual Book Tour. If you make a comment in the thread below you'll be automatically entered in a chance to WIN a LIMITED EDITION signed hardcover copy of Polly: Sex Culture Revolutionary.
The comedian Margaret Cho called it "Raw, untamed, emotional beauty–Polly is a true supernova. This memoir is as touching as it is hot, as moving as it is a masterpiece."
Buy your copy of Polly: Sex Culture Revolutionary bit.ly/pollybook
Join Polly's mailing list bit.ly/pollyslist
Check out Polly's website pollysuperstar.com
Follow Polly on Twitter twitter.com/pollysuperstar
Get updates from Polly on Facebook facebook.com/itsmepolly
Click the image below to check out the other exciting stops on the tour.