Sex Party Goers Share Passionate Lovemaking Techniques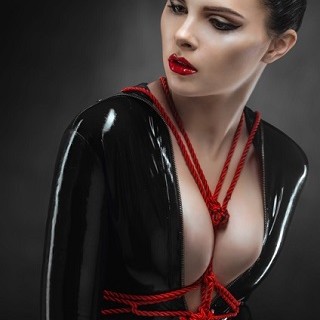 Sex Party Wisdom [Polly Story #1]
Kinky People: What They Know That You Don't [Polly Story #2]
"I was orgasmically challenged." [Polly Story #3]
Here in San Francisco where I live, a very famous "sex party" impresario launched a tell-all memoir.
POLLY: SEX CULTURE REVOLUTIONARY
Now I don't know whether you've always been curious about what it's like at a sex party; you are staunchly against consensual adults making love in group settings or you've never given it a thought. . .
But I thought it would be fascinating to ask Polly for advice that might help you have more passionate and erotic lovemaking, since she is on the leading edge of the sexual revolution.
After all, she was a latex fetish clothing designer before she founded Mission Control, a play space event in San Francisco.
She's held weekly sex parties for years and has seen pretty much everything there is to see in the world from "Lifestyle" swingers to Kink and BDSM play to polyamorous communities all making love in their various manner together at her event space.
I don't know your sexual proclivities (though I'd like to) but most of the men and women who follow Sloane, Tallulah, Patti, Maverick and I are primarily heterosexual and serially monogamous (on the surface). I thought we could learn a few things from Polly Whittaker…
MY QUESTION FOR POLLY
"What can more mainstream, heterosexual monogamous couples learn from play party people about how to have more passionate and erotic lovemaking?"
Polly's reply:
First of all, I don't think hetero monogamous couples should rule out going to play parties.
There's a misconception that all play parties are the same: giant pile-ups of naked people with no boundaries. But it's not like that. Although those parties do exist they're certainly not the norm.
At the other end of the play party spectrum there are events where couples rarely interact with each other apart from flirting. When it comes to the playspace you stick with your partner and there's no pressure to venture outside monogamy. So a play party is an option for a monogamous couple if they think it would be hot to be around other couples fucking.
But if you're really not ready to venture to a play party, then just use your imagination. Fantasy is a great way for couples to experience something new. Just because it's in your head doesn't make it any less hot.
I know a couple who are monogamous and would never stray from that, but their sex life is filled with fantasy about other people. When they meet someone they find attractive in real life, they talk about it. Then, they use their imagination to bring them into the bedroom. While they're fucking they talk dirty about what it would be like if that person was in bed with them.
The reason I know about their fantasy world is because they've admitted to me that I've been in the bedroom with them in their minds a few times. I love that this harmless, playful exploration they navigate is firmly rooted in fantasy, making boundaries for real life play very clear, while their fantasy life is wide open.
OPEN YOUR FANTASY LIFE
I'm glad I asked! Thanks, Polly. What wonderful wisdom. Consider parallel play at a party where you are solely with your partner but enjoy the experience of watching others. And when you meet someone you both find sexy, imagine erotic fantasies together while making love that include the object of your affection.
Both of sexually safe play that can add a ton of zest.  What's more, watching other couples can teach you so many new ideas to take home and try together.
If you are an adventurous lover, one or both of Polly's recommendations are great advice.
If you'd like to be an armchair play partier, consider picking up a copy of Polly's book, POLLY: Sex Culture Revolutionary. Her coming of age story from the kink squats of London to the Burning Man Playa to the SF Mission District play party scene and beyond is full of quirky personal insights of a life well lived.
Please comment on our blog if you have any ideas to add or questions in need of answers.
Your sexuality is a tool for personal growth and transformation.
Want more? Here's a link to Polly's book, Sex Culture Revolutionary on Amazon:
This post is part of the Polly: Sex Culture Revolutionary Virtual Book Tour. If you make a comment in the thread below you'll be automatically entered in a chance to WIN a LIMITED EDITION signed hardcover copy of Polly: Sex Culture Revolutionary.
The comedian Margaret Cho called it "Raw, untamed, emotional beauty–Polly is a true supernova. This memoir is as touching as it is hot, as moving as it is a masterpiece."
Buy your copy of Polly: Sex Culture Revolutionary bit.ly/pollybook
Join Polly's mailing list bit.ly/pollyslist
Check out Polly's website pollysuperstar.com
Follow Polly on Twitter twitter.com/pollysuperstar
Get updates from Polly on Facebook facebook.com/itsmepolly
Click the image below to check out the other exciting stops on the tour.