Heart-to-Heart, Soul-Fulfilling Lovemaking Technique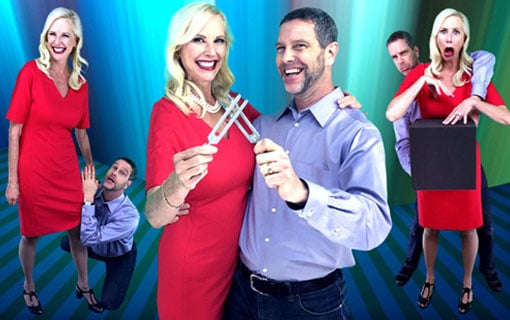 We just get lost in each other, our souls merging.
Michelle writes: "We have heart-to-heart, throbbing, hot and sweaty soul-fulfilling sex. We just get lost in each other, our orgasms merging, our souls merging. And like no other lover, his penis feels so electric inside me. This is what love feels like to me."
Imagine that she's lying there in a pool of bliss looking at you with adoring eyes, sighing because you gave her the best sex OF HER LIFE… the kind of sex she'd been longing for but couldn't put into words?
You may think you've seen it all when it comes to sex techniques, but The Tuning Fork Technique is a new way of having intercourse with your woman.
If you've never given a woman a penetration orgasm during sex, I'm here to tell you that it can be one of the most profound experiences you can have with another human being. Some sex experts even state that Penetration Orgasms are the Holy Grail of Sex.
Without this knowledge you'll receive watching this video today, your ability to consistently give her multiple, vaginal orgasms, or even any orgasmic pleasure, may be hit and miss — which means that, over time, she will be less and less likely to want to make love with you.
And ladies, if you struggle to have even one orgasm… watch this video with your man.
Because most women, even if they can have orgasms from vibrators or your fingers or tongue feel like they are "broken" if they can't orgasm from intercourse. Some women have even think that it's just impossible for them to have vaginal orgasms.
That is a complete myth.
It is every woman's birthright to have multiple, vaginal orgasms from penetration. The human body –all human bodies, including YOURS, is multi-orgasmic.
Because a lot of people talk about "merging or becoming ONE," or "transcendent sex," but no one tells you exactly how that happens, watch this video where my friends Susan and Jim paint you the picture right now.
If you can, put yourself in the scene as you watch them demonstrate The Tuning Fork Technique.
'What's starting to happen experiential at this point is that you stop being two separate people DOING things to each other, and the two of you start to blend into each other. This kind of ecstatic merging is the transcendent sex that we were talking about."
TRANSCENDENT SEX VIDEO <=== You are feeling potent, alive, connected and very deeply satisfied.
Trust me, this a path to the sexual nirvana we all seek.
You are going to love Suz and Jim's stories and explanations.  They are so fun together and wicked smart!
Email me back and let me know what you thought of The Tuning Fork Technique.
When you enter your name and email to watch Susan's video (totally legit) you will also discover:
▶︎ How to give a woman the one thing she wants most from you during sex that you may be completely blind to right now.  This secret is what will inspire her deepest devotion to you.  (Ladies, watch this video with your man!)