Heartgasm Technique For Your Man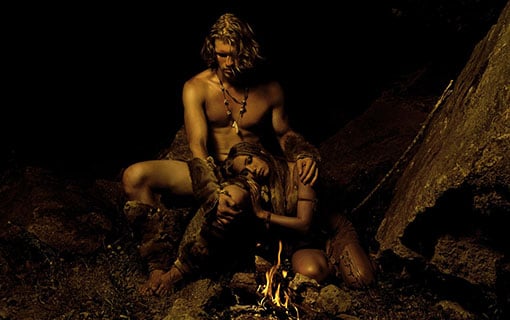 SALE ENDS MIDNIGHT TONIGHT
If he's a strategizer, "in his head" during sex…
Some women say, "He's interesting but I feel kinda scared of him. I can't feel his heart."
That woman can't feel that his emotional heart when he's making love to her.
Other women might say, "He's an interesting guy. I like him as a friend. But I'm kinda bored around him."
That woman can't feel his genital energy… his vital energy
What would it be like to feel both of those things when you have sex with your man?
This is what women need most during sex. ⇒ Watch the Heartgasm video
EMOTIONALLY CONNECTED SEX
What women need most is men who are open-hearted and feel alive in their genitals.
It's primal. We wants to feel both his heart and genitals when he makes love to us.
You want him to feel his own heart and genitals when he's with you.
Encourage your man to become a Multi-Orgasmic Lover.
Help him take the ME Breath into his heart.
If his heart isn't connected to his genitals how long are you going to want him sexually?
Watch this Heartgasm Video Clip ⇐ Fast Forward to 1:30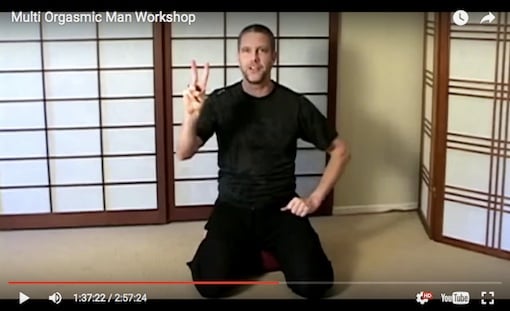 Bill, one of the Sexual Mastery Inner Circle* members writes:
"I wanted to write to Susan Bratton and also thank Jim Benson, of course. I have had the Multi-Orgasmic Lover program for a couple years, and got to a level of occasional heartgasm.

Watching the live seminar, [on becoming a multi-orgasmic man] Susan got so horny at the thought of the pelvic rock, … well, I was surprised, because frankly, I found it so embarrassing to watch a man do that.

Anyway, I thought again, and just did the motion, to make sure I was doing it right. Bam! It was a near-instant heartgasm. Susan, that was from you! Thanks!!"
When you decide for yourself you want this ME Breath technique…
And you encourage your man to purchase Multi-Orgasmic Lover for Men by Jim Benson…
Before the 57% off sale is over…
You will receive the Wild at Heart Pack — a value of $525 — as a BONUS.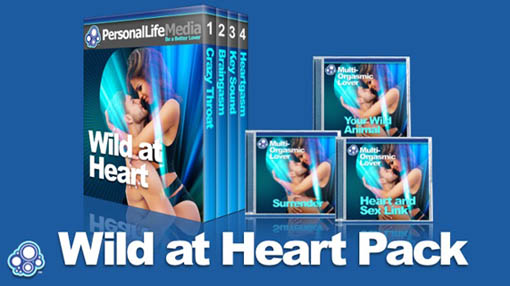 WILD AT HEART BONUSES
Heart and Sex Link and Heartgasm
This Bonus Pack includes the Heartgasm video, where Jim shows you how to take the ME Breath into your heart.
For a lot of guys, this package completely changes the way they experience sex. And it can happen quickly!
It's the Heart and Sex audio plus the HeartGasm video, an $88 value.
Wild Animal 5 Pack
Here's where we take the ME Breath to its maximum. He's basically using it to bypass his rational mind and open to entirely new realms of pleasure. This is the ultimate merging with your partner.
The 5-Pack includes three videos and two audios. 1) Your Wild Animal and the Upper Limit and 2) Physical, Emotional and Mental Surrender audios with 3) Crazy Throat, 4) Key Sound and 5) Braingasm videos
For guys who are "strategizers" in their lovemaking… If he's focused on giving you an orgasm, or planning what's next, then he's still "in his head." Two of the videos in this package move him from that headspace into contact with his primal, vocal self.
Hearing him express his pleasure turns us on faster.
When he surrenders and stops "managing" us it makes us devoted to him. Women call this kind of a guy their, "Soul Mate."
When he lets go like this to his pleasure then he paves the way for you to be animalistic, slutty — where she you swollen with turn on in weekend long lovemaking trysts.
GET PRIMAL
The other video teaches him how to use the ME Breath to achieve a braingasm.
When you start experiencing Braingasms together, you're entering the realm of what is called, "Transcendent Sex" or achieving "rapture"… and it's all based on the ME Breath.
This is the point where you two are so limbically connected you're like one being. This is the ONENESS where your energy is intertwined and you achieve a state of rapture. I have had moments where in my orgasmic state I have touched souls.
Lovers who share this experience have profound shifts in their being. Women are more grounded, men are more confident and both have their hearts broken open and feel more love for the rest of their lives.
The Wild Animal 5 Pack is a $147 value.
I love this package. And I guarantee you will feel the difference in the bedroom once you can get him to start letting go and become more spontaneous and primal. Suddenly, both the quality and quantity of sex goes WAY UP for you!
The $535 "Wild at Heart" BONUSES are going away on 6/1/16.
===> Try Multi-Orgasmic Lover for 2 Months Risk Free
Don't miss out on these amazing bonuses. This is a complete HOT SEX ED training for men.
* You will get an invitation to join the closed Facebook group called, The Sexual Mastery Inner Circle when you become a Multi-Orgasmic Lover customer by 6/1/16.
Partners are invited to join too and he can be with men on his same journey…
$360 value is yours free as a BONUS when you purchase during this 57% off sale.
===> Try Multi-Orgasmic Lover for 2 Months Risk Free