How To Find His P-SPOT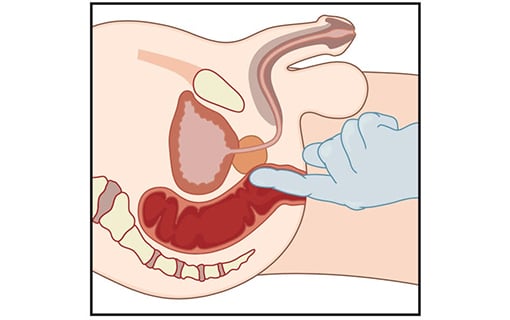 Male G-Spot = Prostate Pleasure
"Makes the P-Spot a new erogenous area that's pleasurably approachable."
Have you unearthed the pleasures of the prostate?
The prostate is an amazing part of your body! It's a male gland (makes part of seminal fluid) and a muscle (pumps semen) as well as a filter (removes toxins).
The prostate loves to be massaged and is often called, "The Male G-Spot," or P-Spot because stroking and palpating the prostate while simultaneously pleasuring a man's penis can be potently pleasurable.
(For some men, the exploding power of the ejaculation he has when his prostate is stimulated at the same time as his penis is the most amazing orgasm he can have.)
I recommend wearing non-latex gloves, putting down a towel and using this brand of organic avocado oil because it's a very silky texture and completely natural (no chemicals.)
Like the G-Spot, this prostate tissue likes a gentle stimulation with light pressure and less movement.
If the man squeezes his PC muscle (like doing a Kegel exercise or squeezing the muscle that stops your flow of urine) while his partner is stimulating his prostate and penis at the same time, even stronger orgasm may result.
You can also massage the prostate externally. Just press between your anus and the back of your scrotum (balls) in the perineum area.
There are a lot of prostate massage devices on the market.
This prostate massager is highly-rated and includes a perineal massager AND you can make it vibrate. Some men like the vibration, while others prefer manual stimulation.
Try both and you may find you enjoy it all. 🙂
The best news is that regular massaging of your prostate moves fluid through, releases toxins, and may prevent prostate cancer. Plus it's a pleasurable addition to your sexual experiences.
Many men with prostate issues go to massage therapists who specialize in prostate massage or have their partner give them regular massages.

DONE-FOR-YOU P-SPOT MASSAGE
As with everything sexual, communication is key with your partner. Feel your way slowly together.
And if you're self-stimulating, take it slow.
Jim Benson's Multi-Orgasmic Lover for Men program teaches you many prostate stimulation techniques as well as how to become a multi-orgasmic man by learning how to move your sexual energy up into your body instead of immediately out your penis in an ejaculation.
With Jim's techniques, you still ejaculate at the end, but first you have many full-body orgasms.
Multi-Orgasmic Lover for Men <== Don't Ignore Your Backdoor
As well, you might benefit greatly from the Anal Massage video from our Steamy Sex Ed® DVD Collection.
This high quality video of sensual instruction will teach you how to give exquisite anal pleasure to both men (includes milking of the prostate) and women (g-spot through the anus) and also includes an erogenous massage of the derriere.
See if there are any available on sale. <=== Steamy Sex Ed® Prostate Play
This is not an anal intercourse video — it doesn't show you how to penetrate her with your member.
Instead it's all the sensual touch techniques that awaken and enliven your anus, prostate and perineum.
First the beautiful woman (a sexy and well-educated somatic sex expert) demonstrates all kinds of warm up anal touch techniques such as:
– A long luscious stroke between your cheeks with massage oil to warm you up
– Twiddling thumbs in a rhythmic motion
– A butterfly wavy motion with the outside edge of your hand between your cheeks
– Pulling your fingers apart simultaneously over your rosebud
It's very sweet how the couples connect. (There are two couples who demonstrate different strokes in two massaging sessions.)
When I watched how the women massaged the men there were two aspects I appreciated most:
1) Seeing exactly how to slowly work up to massaging the prostate about an inch inside and
2) Milking a man's prostate by stroking up inside while fondling the shaft of his penis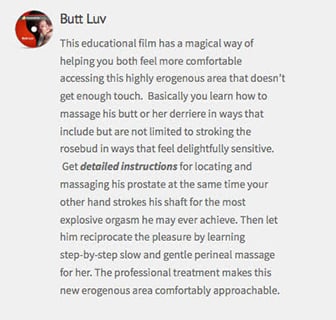 My honey says his favorite aspects are:
1) It's rejection proof because you're not just shoving your finger there — you learn how to ramp arousal.
2) If you memorize what you're watching you'll know exactly what to do so lovers who have never experienced anal pleasuring before would be willing.
He called it an "anal pleasure blueprint."
For both of us, it gave us the confidence that comes from knowing exactly what to do.
Pleasurable anal experiences are all about the warm up — the smooth and easy strokes — and how to get the finger out once you've eased it in.
Turns out there's easy and "right" way to remove your finger too.
This video – one of the 8 in the collection – includes:
Anatomy of the pelvic floor and anal area
Warm up massage for the butt and thighs
Techniques for external and internal anal touch
Male and Female anal massage
How to milk the prostate and massage the G-spot through the anus
Positions for anal massage
Experience the most beautiful demonstration of anal touch as fingers play on rosebuds.
In this DVD presentation you have the option of a somatic sex expert's seductive instruction as a voice track or simply watching as piece of erotica with flowing music and image.
This high quality work of sensual instruction will teach you how to give exquisite anal pleasure to both men (includes milking of the prostate) and women (g-spot through the anus) and also includes an erogenous massage of the derriere.
This film is a great way to introduce anal play to your lover and is perfect for watching together.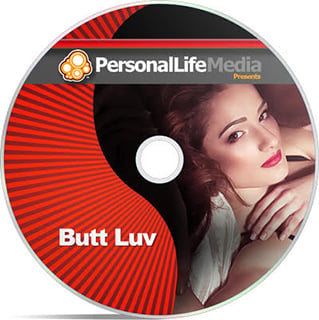 See if there are any available on sale. <=== Steamy Sex Ed® Anal Pleasure for Him and Her
Let me know how you do with all this.