Survey Results: Where To Find A Date With Chemistry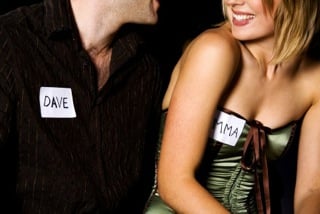 Inside: What people are looking for in a lover, where they find them and what is holding them back from dating.
The dating survey results are in!
If you remember, I sent out a questionnaire about "Where I Go To Meet A Lover."
If you participated in the survey, thank you. ♥
We got some thought-provoking info from REAL people looking to meet REAL lovers.
So let's get started.
As I write this, a total of 1,959 people took the survey.
64% were guys, 35% were ladies, and 0.3% said they were free from gender labels. We compared the answers of men versus women below and there are some surprising differences.
Of those who took the survey, 64.5% of the men are over 35 years old, and 7.7% are between 18 and 34 years old.
62.8% of the female respondents are over 35 years old, and 9.4% between 18 and 34 years old.
WHERE TO MEET A LOVER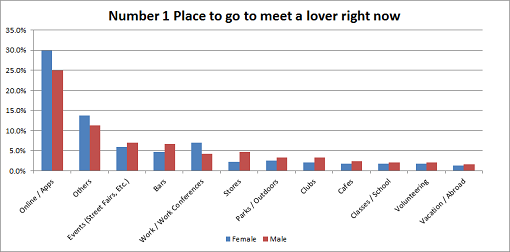 Most of you said you go online or use dating apps to meet lovers. More men go to events, bars, stores, parks, clubs and the like. More women find men at work and other (more on that below).
Check out the staggering difference between how much singles are now using online sites and dating apps to everything else.
For the respondents 18-24 years old, the number one place to go to meet lovers is at school. Makes sense.
For respondents 25-24 years old the number one place to go is Work or Work Conferences.
And for respondents 34 years old and older the number one choice was online sites and dating apps. Maybe too many bad work breakups by the time they hit 35?  Or by the time someone gets to their mid-thirties they want to focus on finding, "The One."
The second biggest category after online dating and dating phone apps is, "other." The write in responses were mostly, "friends," "church," and "blind dates."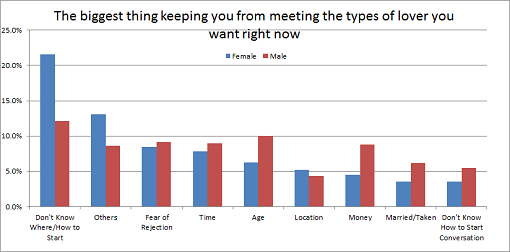 WHAT'S STOPPING YOU FROM MEETING LOVE?
So what's stopping folks from meeting lovers?
Check out the stats.
The biggest factor that's stopping a lot of people from socializing is not knowing where and how to start. Hence, why dating sites and apps are a popular choice.
If you're not doing online dating, get started! If you're not having success with online dating change your profile and pictures following Scot McKay's advice in this free webinar I did with him called, "WIN At Online Dating."
WIN At Online Dating ⇐ On-Demand Video Webinar
I saved the best for last. Keep reading…
WHAT PEOPLE ARE LOOKING FOR IN A LOVER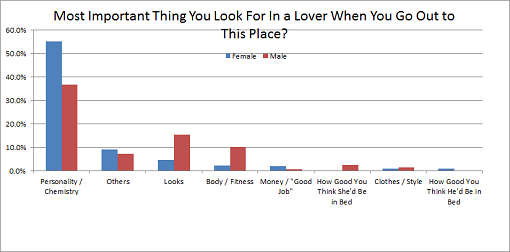 You saw it here. Proof. From real people looking for real people.
What do men and women look for in a partner and lover?
Personality and chemistry.
Forget money, clothes, and a good job. They're important of course, but that's not what people are LOOKING for.
Men and women look for a connection.
You guys want to meet someone fun. Someone who jives with you. Someone who isn't a sour puss or a mopey dopey.
Sure, the chart says men still prefer a little bit of good looks and a hot body, but what's phenomenal is having a great personality.
---
This featured article is exclusive to members only. Make sure you are logged on to your Personal Life Media account to view the rest of the content. If you have not signed up yet click here.
---
If you were one of the respondents of the survey, let me thank you again. It's truly wonderful to hear what's on your mind and heart. I truly look forward to getting to know you even better. Hit me up anytime with questions. I can't promise to answer them right away, but I read all of my emails.
Online dating is where it's at. People are looking for chemistry (sex appeal) and personality.
So go get your profile updated using these EXCELLENT profile design techniques Scot outlines in our free, actionable webinar:
WIN At Online Dating ⇐ Webinar on How To Showcase Your Personality Online To Attract The Partner You Desire