International Men's Sex Coach Commendation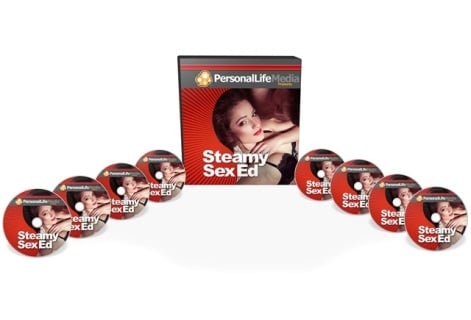 Here's a recommendation from one of the BIGGEST NAMES in masculine sexual leadership.
==============================
Hi, Ready-And-Willing Lover,

My dear friend, Jim Benson, international men's sex and relationship coach, sent out this wonderful message to his clients, students, and followers. Jim's also the guy behind our super successful Multi-Orgasmic Lover for Men program. Here's what he had to say about Steamy Sex Ed®.

"What are some high-quality, sexy videos that I can watch with a partner that show a lot of erotic techniques, but aren't porn?" (scroll down)

Get On The VIP List Here ⇐ Will I see you on the VIP list? Or will you have to wait-in-line?

As a tantra teacher and sexuality coach, I'm occasionally asked some version of this question by my workshop participants and one-on-one clients:

"What are some high-quality, sexy videos that I can watch with a partner that show a lot of erotic techniques, but aren't porn?"

Sadly, there's not a lot out there.

For many years I would hand-select porn clips for guys to show them a particular technique, but finding high-quality training material was challenging. So much of professional porn is "performed" for the camera, with no intention to instruct the viewer.

It became even more challenging when I tried to find well-produced erotic videos that couples could watch together, get turned on, and then experiment with what they had just seen.

To the rescue comes Steamy Sex Ed®: The collection of lovemaking DVDs that my dear friend and super-sexpert Susan Bratton is making available later this month.

It's not often that a sex-life-enhancing product gets my unqualified endorsement. But Steamy Sex Ed passes all of my tests with flying colors:

Attractive, "real-life" talent
High-quality production and cinematography
Sexy voice-over narration
Hundreds of explicit techniques
Feminine-positive
Excellent value

Get VIP Access to Steamy! <====

Very shortly, Susan will be opening her online store doors to offer this package of 8-DVDs and/or digital downloads or streaming video. There will be a limited supply, but if you get on the VIP list, your copy will be assured.

Great lovers regularly learn new skills, and this series of videos is one of the very best ways I know to discover them.

Do your love life a favor. Get Steamy!

To your future sexual superpowers,

-Jim

PS: Susan, her husband Tim, and their team at Personal Life Media have a very high level of integrity. They will cheerfully return all of your money within 60 days if you're not completely rocked by all of this erotic goodness. But their copies of Steamy Sex Ed almost always sell out, and when they go, they're gone. So sign up on the Early Bird list now!
==============================
Awww, thanks, Jimmy! Love ya!
Okay, taking from what Jim said about Steamy, and adding my own pizzazz…
Steamy is a wonderful, smoking hot video collection of soul-melding, heart-connected lovemaking techniques that teach you how to have passionate, level 11 and up sex with your lover.
You can watch it together —and even follow along as you go.
And best of all —it's not at all like the horrid genital mashing and staged orgasms you see in porn!
When you see these lovers climax, it's 100% real!
You can tell by their facial expressions. That's pure, authentic pleasure.
The Steamy Sex Ed® Video Collection were all done as sensual, erotic and tasteful as possible.
Candlelights. Satin sheets. Soothing music.
None of that cheesy "bow-chicka-wow-wow."
Because The Steamy Sex Ed® Video Collection is all about Hot, Passionate, Level 11 And Up Lovemaking.
Watching it inspires you to make sweet, passionate love with your partner for hours and hours of non-stop pleasure and multiple Os.
You WILL love every minute of it.
Get On The VIP List Here ⇐ Make Sure You Get Your Copy Before Everybody Else Gets A Chance To Order Theirs (Going On 60% Off SALE Very Soon)
Sweetie, there's one thing I just have to let you know. It's not just Jim who's sending emails to their readers about the Steamy Sex Ed® "Flash Of Passion" 60% OFF SALE happening next week.
Over 50 of my closest friends, who are all relationship experts, sex coaches, personal development coaches, best-selling authors, and people who have LOTS of readers, fans, and followers who are now STOKED and EXCITED for Steamy Sex Ed® to go LIVE.
That means more and more people, people looking to have hotter, more passionate sex just like you, are ready to order the Steamy Sex Ed® Video Collection.
I would LOVE for you to get a copy before all of them. So I'm urging you to get on the VIP list so you can make sure you get yours before everyone else gets theirs.
Get On The VIP List Here ⇐ Will I see you on the VIP list? Or will you have to wait-in-line?