He feels your sultry, hot presence in the air the second you walk past him. He's being blown away by your sexual aura. Fantasy spring to mind as you enter his awareness. He thinks, WOW, that's the hottest woman I've ever seen.
Little does he know you're even HOTTER and SEXIER in the bedroom.
Here's my 2nd gift of the week, just for you.
Today you're getting something that will spice up your bedroom sexcapades for the rest of your life… Starting tonight!
"How To Be Instantly Hotter & Sexier In Bed." ⇐ Grab This FREE Erotic Handbook Now
INSTANT SEXINESS!
In it, my gorgeous fellow sexpert Susan Bratton, hot sex advisor to millions of satisfied couples, shares three easy ways you can be instantly sexier and more appealing…
…as well as experience more pleasure…
…and have a stronger connection to your lover.
The three techniques are already inside you waiting to be unleashed.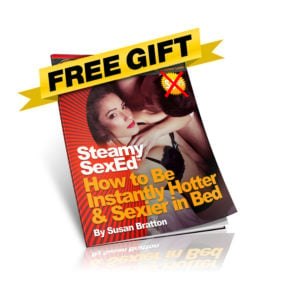 INSTANT HOT PASSION
I guarantee you will love the 3 secrets she shares in her free downloadable ebook, "How To Be Instantly Hotter & Sexier In Bed." ⇐ Download It Now For FREE
Susan is a champion of all the people who want more passionate lovemaking and her techniques are the sexiest!
Enjoy the book with my compliments.
When she says INSTANTLY HOTTER and SEXIER, she's NOT kidding!
"How To Be Instantly Hotter & Sexier In Bed." ⇐ Download It Now With My Compliments