How to Achieve Male Multiple Orgasms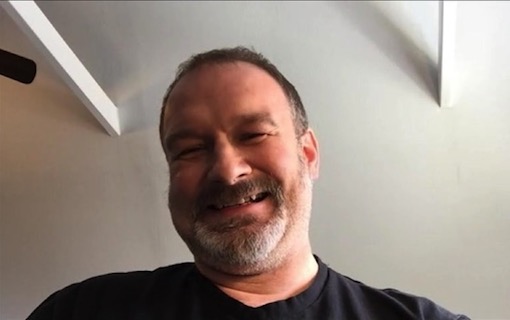 How Ephraim became a multi-orgasmic man…
"It was something that I heard about, wanted, and had no idea how to do, until Multi-Orgasmic Lover came along."
"This upped my game a thousand times! It was clear. The practices were fun and interesting."
"I used to be jealous of the potential for women to have multiple orgasms. Now women are jealous of me! I used to come just thinking about it. And now I have lasted maybe an hour and a half! This could take ANY guy to this level."
MULTI-ORGASMIC LOVER GOES AWAY TOMORROW⇐ Get Instant Access To The Full Program For An Initial Payment Of $19.97 Today (12-Pay option)
Another Multi-Orgasmic Lover who used to have a sucky sex life is Ephraim.
Before he discovered the ME Breath, Ephraim use to come just by thinking about sex. Even before he entered a woman.
And he was always insecure about himself, as well as jealous of the ability women have to achieve multiple orgasms.
He eventually met Jim Benson and learned everything about becoming Multi-Orgasmic from him. And today, his sex life is the bomb.
Watch Ephraim's Video Here ⇐ Multiple Male Orgasms And Ejaculatory Choice (SALE OFFER EXPIRES TOMORROW)
The problem a lot of men face is that they believe in order to last longer during sex, they have to hold back their turn on, hold back their pleasure, slow down, stop, pull out, and even take mid-sex timeouts to refrain from coming too soon.
However, if you're holding back during sex, you're robbing your woman of the pleasure of knowing she's turning you on and that you're getting intense amounts of sexual pleasure from making love to her.
Women can sense that you're holding back, and they absolutely hate the feeling.
She feels like you'd rather distract yourself with sports stats and mental images that lower your arousal, or by taking a break (which lowers her arousal) instead of being 100% fully present in the moment with her.
She's thinking, "He would rather think of dead squirrels than have eye contact with me as we're making love? NO WAY!"
86% of men want to last longer. It's the most common desire of men after giving her incredible pleasure. And the twist is that lasting long enough IS what can finally give her incredible pleasure as long as you can put your attention on HER and emotionally connect with her instead of holding back.
With the ME Breath, you don't have to space out and distract yourself from coming… you can come all you want, when you want, and give your lover multiple penetration orgasms as well.
One fascinating thing I learned from a recent survey I did is that 95% of the women would be more than happy to support their men if they were to practice becoming multi-orgasmic.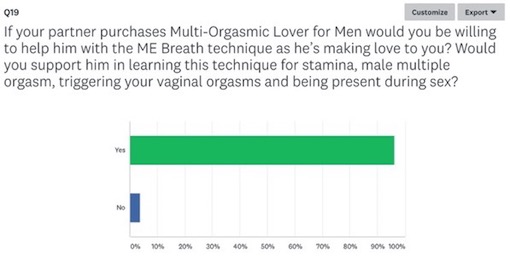 WOMEN CRAVE MULTI-ORGASMIC MEN
They LOVE the idea of their lover finally being able to last as long as them.
And It Starts With Multi-Orgasmic Lover For Men ⇐ 12-Pay Option Available Again For ONLY Until Tomorrow, November 6th
Make sure to watch Ephraim's video about his experience working with Jim and learning the ME Breath.
Watch Ephraim's Video Here ⇐ Discover How To Come All You Want (OFFER EXPIRES TOMORROW)
Tomorrow, November the 6th, is the last day we're making the 12-pay option for Multi-Orgasmic Lover for Men available to you.
If you're a guy who wants to have Everlasting Stamina, Ejaculatory Choice and the power to have Multiple Male Orgasms, then you'll want to get the program.
Now, most people tend to think of the risks first. What's the risk here?
That it doesn't work for you? Jim Benson and I are sure that when you follow his program, it WILL work for you.
However, if for some reason you're not satisfied with the new, amplified sex life that the ME Breath Technique gives you, you're welcome to let us know within 60 days and we'll return your money, no questions asked!
And with the 12-pay option, you can get instant access to the entire Multi-Orgasmic Lover for Men program, the Sexual Mastery Inner Circle and future updates all with an initial payment of $19.97 today. After 11 more months of paying $19.97, you get to keep access forever.
What other risk is there? That she won't like it?
Our latest survey showed that 95% of women would love to support their men as they work on becoming Multi-Orgasmic.
That means SHE WANTS you to have multiple orgasms. SHE WANTS you to have Ejaculatory Choice and be able to last as long as you want.
And SHE WANTS for you to be able to give her penetration orgasms.
You can practice the ME Breath during masturbation, but don't close your woman out of the joy of helping you become a multi-orgasmic man.
If you're single, you can practice and be ready to last as long as your woman wants you when the moment happens.
That's why if you're not yet Multi-Orgasmic, you'd be crazy not to take this opportunity today. Remember, this is the last day we're making the program available.
After midnight tonight, this will be gone.
So Click Here To Become Multi-Orgasmic Starting Tonight ⇐ Initial Payment Of Just $19.97 Today (OFFER EXPIRES TOMORROW)