Keeping Up With Her Sexual Needs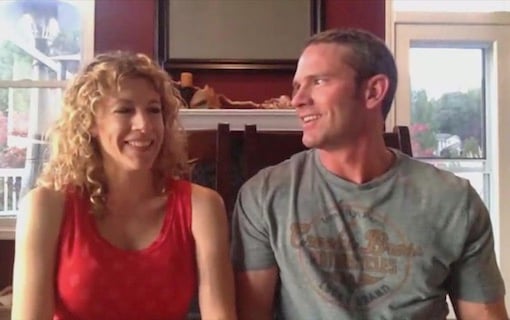 How Matt & Camery BOTH achieved a multi-orgasmic sex life…
"With the busyness of life, sex becomes less of a priority. My wife discovered new faculties in herself and became multi-orgasmic. And I couldn't keep up with it."
"So much average sex is work. Everybody's working so hard not to orgasm. Guys are working to NOT do it, while women are struggling to DO it." —Matt
"Instead of 30 minutes of constant effort to get one orgasm for each of us, now in 30 minutes you can't count how many orgasms we each have. And there's no effort at all!" —Camery
MULTI-ORGASMIC LOVER GOES AWAY TONIGHT ⇐ Get Instant Access To The Full Program For An Initial Payment Of $19.97 Today (12-Pay)
There's a good and a bad side to just about everything.
I just recently carried out a survey among my readers, and one of the interesting things I discovered is that 66% of women have yet to experience multiple orgasms.
The bad news is that 66% of women are missing out on a life-changing experience.
The good news is that over 44% of women have ALREADY achieved becoming multi-orgasmic. That alone is cause for some celebration! When I started teaching singles and couples how to have better sex, multiple female orgasms wasn't even a thing yet.
Another interesting find is that 71% of women have NOT YET had sex with a multi-orgasmic man.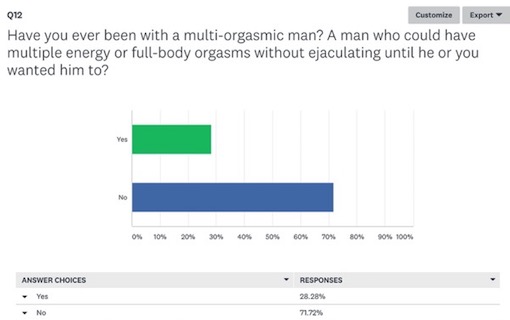 WOMEN CRAVE MULTI-ORGASMIC MEN
Good news is there's a good chunk of guys who have become multi-orgasmic and are giving their women elevated levels of sexual pleasure.
Bad news is that so many women are becoming more and more sexually empowered, and a lot of guys aren't able to keep up.
That's the exact same thing that happened to Matt and Camery.
You Can Watch Their Video Here ⇐ Matt Couldn't Keep Up With Camery's Sexual Needs (MOL SALE ENDS TONIGHT)
BECOME MULTI-ORGASMIC
Camery, like many modern women discovered that women can achieve multiple orgasms.
And while that's good news, the bad news is that Matt is like a lot of guys, still a "single popper." One pop and they're done for the night.
So they're struggling as lovers to have hot, passionate lovemaking. Camery can handle hours and hours of sex. She's able to come multiples.
And she can't believe women are multi-orgasmic but men aren't. So she searched online and found Jim Benson's Multi-Orgasmic Lover for Men program in which he shares The ME Breath. This is what makes it possible for men to experience multiple orgasms.
Watch Their Story Here ⇐ Matt & Camery Discover Multiple Orgasms And Now Have Phenomenal Sex (LAST CHANCE FOR EJACULATORY CHOICE)
This is the last day we're giving you the 12-pay option for Multi-Orgasmic Lover for Men. Tomorrow we're taking it off the market.
If you're a guy who wants to have Everlasting Stamina, Ejaculatory Choice and the power to have Multiple Male Orgasms, then you'll want to get the program.
Now, most people tend to think of the risks first. What's the risk here?
That it doesn't work for you? Jim Benson and I are sure that when you follow his program, it will work for you. However, if for some reason you're not satisfied with the new, amplified sex life the ME Breath Technique gives you, you're welcome to let us know within 60 days and we'll return your money, no questions asked!
And with the 12-pay option, you can get instant access to the entire Multi-Orgasmic Lover for Men program, the Sexual Mastery Inner Circle, and future updates all with just an initial payment of $19.97 today. After 11 more months of paying $19.97, you get to keep access forever.
What other risk is there? That she won't like it?
Our latest survey showed that 95% of women would love to support their men as they work on becoming Multi-Orgasmic. That means SHE WANTS you to have multiple orgasms. SHE WANTS you to have Ejaculatory Choice and be able to last as long as you want. And SHE WANTS for you to be able to give her penetration orgasms.
That's why if you're not yet Multi-Orgasmic, you'd be crazy not to take this opportunity today. Remember, this is the last day we're making the program available.
After midnight tonight, this will be gone.
So Click Here To Become Multi-Orgasmic Starting Tonight ⇐ Initial Payment Of Just $19.97 Today (LAST CHANCE FOR PHENOMENAL SEX)