How To Unleash Her Naughty Cowgirl Side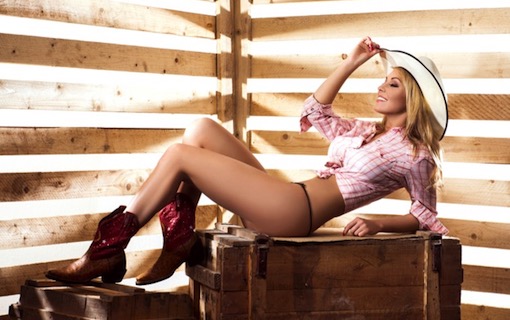 Yeehah!
I want to ride you, baby. You make me feel so hot and wild for you. I can't help myself. I'm your cowgirl for tonight.
Have you ever had a hot girl on top of you?
Her smokin' frame riding you like the bad girl she truly is inside.
Her thighs brushing against your hips.
And you're so hard and loving every second of it. Looking up at her most precious pears hanging off her "tree of lust," beckoning you to caress them.
She WANTS to ride you, honey. She might just not be confident enough yet.
But my clothes-hating girlfriend Gabby's videos will knock her off the fence and straight on top of you.
UNLEASH HER NAUGHTY COWGIRL SIDE
Inside, Gabby and her titillating teachers show you every inch there is to see about how to have a naughty good time with her on top and you bucking like the wild stallion you are.
The Reverse Cowgirl Domination Video inside Naked University Season 4 shows you advanced moves like:
Pre-sex escapades (Spine Tingler, Pinball Tilt and Tug Of War)

Tricks To Double Her Riding Pleasure

The Rockaway Technique (teases her and moves her in the zone for sex)

Lusty Lift (the naughty foreplay most women secretly crave)

Pressure Cooker sex position
Remember, it's not all about the naughty naked girls showing you their smooth, creamy bodies.
The lessons are top-notch as well.
⇐ Reverse Cowgirl Domination Inside
Use The Code: "4MYINTIMATEFRIENDS" To Get FREE SHIPPING!