Your greatest life is right ahead of you.
For a lot of people, 2017 wasn't the "Big Year" they had hoped.  I missed a few personal goals myself.
As much as it's important that we grow and reach our dreams, it's also as important to realize that when we stumble, run into roadblocks, or fall down completely…
We should always, always, ALWAYS, bounce back — in a BIG way!
For some people, it's hard to keep getting up when you get knocked down again and again… Which is why I want you to download this FREE book from my friend, Sonia Ricotti.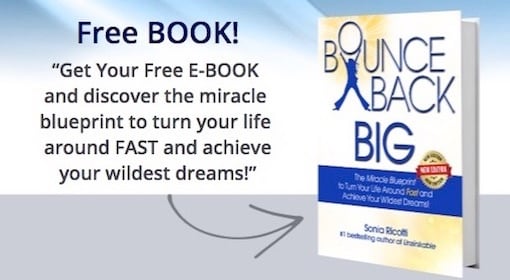 GET BOUNCING!
No matter what your current situation is, whether you're experiencing financial problems, going through tense relationships, a wobbly career, or maybe health issues…
Knowing these 3 steps will help you transform your life in the best possible way.
In this book, you'll also discover:
The #1

most critical

and important thing you must do first that will turbocharge your results

How to

reprogram and rewire your brain

to manifest massive success, wealth, peace and happiness

How to easily

let go

of all the pain, suffering, stress and anxiety — and instantly experience confidence, peace, joy and ease

How to create the

blueprint

for YOUR dream life — the one you love and really deserve!
… And lots more!
Your greatest life is right ahead of you.
Don't give up. Keep smiling. Keep moving forward.
And bounce back in a truly spectacular way this 2018.
⇐ 3 Steps To Bouncing Back, Turning Your Life Around And Achieving Your Wildest Dreams
Here is a picture of Sonia and I. She is such an amazing woman. A total doll. And a lovely Canadian. You can trust that she will help you bounce back big.