How To Give Your Woman Trigasms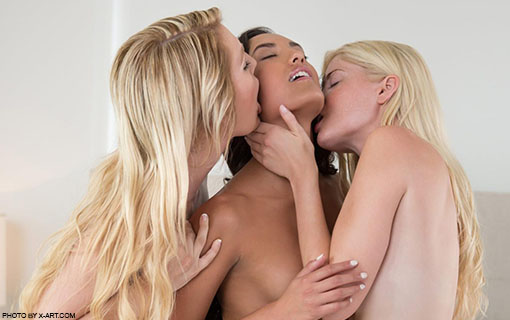 Sometimes a girl wants a softer, more delicate touch on her juicy bits…
When you're both in a public area like in a fancy restaurant or during game night with friends and her state of mind isn't really about sex… yet.
And you want to tease her in front of everybody… without them knowing.
Or you just want the thrill of getting your lover wet and watching her try to hold her moans, sighs, and orgasms in.
The "Indirect Touch" is the technique you want to use.
And these barenaked ladies are ready (and willing) to show you the exact steps.
Now, the "Indirect Touch" isn't just for teasing your woman.
You can apply it in sex too. And it's in no way second-rate compared to other Trigasm techniques.
In fact, some women even have more powerful orgasms when stimulated with this kind of pleasure.
Here are some of the "Indirect Touch" variations, techniques, and positions these 3 lovely ladies will be demonstrating for you…
In the privacy of your own bedroom.
The Twisted Girl

Slip-And-Slide

Party Hard

The Swing

The Raised Bridge

The Crab

Lean Back Baby

The Edge

The Clamp

In-Your-Face

The Body Rub

Wheelbarrow
Are you ready for a hot, sexy, orgasmic time?
How fast do you think these techniques can make your lover come?
And how MANY do you think you can give her tonight?
⇐ Give Your Woman Trigasms