"What the Chippendales can teach about great sex."
Click Here to get on the Steamy Sex Ed® Video Collection FLASH Sale VIP List Now.
I had the pleasure of being a guest of the Chippendales dancers in Las Vegas this week.
Their show is based on women's fantasies.
Here is a video with the Top 10 Fantasy Sex Techniques where I show you how to make fantasy sex safe and fun!
In addition to enjoying the pleasure of watching they guys dance, rip off their tee shirts, pants and briefs, I also noticed many things about both the audience and the production that could make your sex life better.
1) Women go together to this show. Bridal parties, birthdays and girls nights out are the core of their business.
2) Audience engagement was a big part of the show. I was integrated into their cowboy scene. They had at least a dozen women come up on the stage.
3) They acted out common fantasies women use to get turned on.
I thought about how these three insights could help you enjoy sex more and here's what I came up with: (scroll down)
Three key insights to make you a better lover:
GROUPS
It's nearly impossible for the average man to understand the level of fear that arises for women around their sexuality. Eons of rape and subjugation are in our bones. Only the highly rational mind or the unconscious mind can override or ignore the fear enough for a woman to relax and take her pleasure.
Where men are the hunters, women are the hunted. If you wonder why our nervous systems have a hard time surrendering to pleasure, wonder know more.
Women going in groups creates both safety as well as support by one's girlfriends that it's ok to let out our sexy side and enjoy seeing the beauty of a man's muscular body. More and more of my female fans are asking for pictures in my email newsletter to include sexy, naked men including their phallus. Reply to this email if you want to see more naked men's pics and I may start a separate series. Note, this email was sent to both sexes, so if you're a guy, your take away here is that women love men's bodies.
In one scene, the Chippendales' struck poses for the women showcasing their muscles. The women went wild! So if you haven't done a few muscle poses for your lady in the bedroom, you might want to try it. Because women love to have FUN in the bedroom.
PLAY
As I said, fun. When women say they like, "a man with a good sense of humor,' that includes during lovemaking. The Chippendales had women up on the stage dancing with them, having the women show them their favorite sex positions, putting on blindfolds and tying them up and dancing on them…
Get creative. What kind of Chippendales' costume could you put on to dance for your lady?
And if you're a woman, what kind of play would you like your man to do with you? He doesn't know. Just tell him! He wants to make you very turned on and happy. Indulge each other.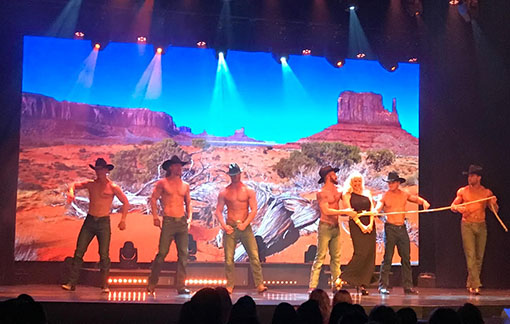 SUZ GETS LASSOED BY COWBOYS
FANTASIES
Cowboys. Rock and Roll Super Stars. Policemen. Marine Corps. Construction Workers. Bikers. Risky Business scenes. A Fashion Show. A Bondage Scene (tied up and blindfolded). A Shower Scene. Lots of Dance Scenes from Jazz to HipHop.
Here is the cowboy scene where they lassoed me across the stage from guy to guy to guy. When you move a woman's body, you move her emotions. Maybe it's time to play cowboy and cowgirl?
Here is a video with the Top 10 Fantasy Sex Techniques where I show you how to make fantasy sex safe and fun!
And for my ladies, here are some images of the show for you. You can also see a short video of the show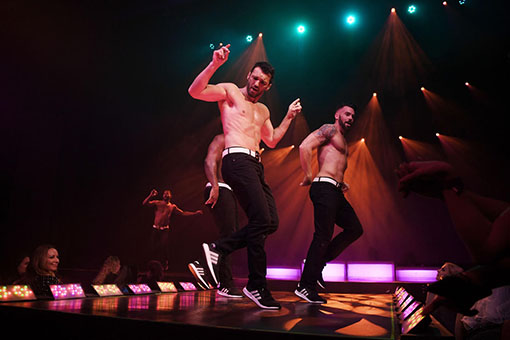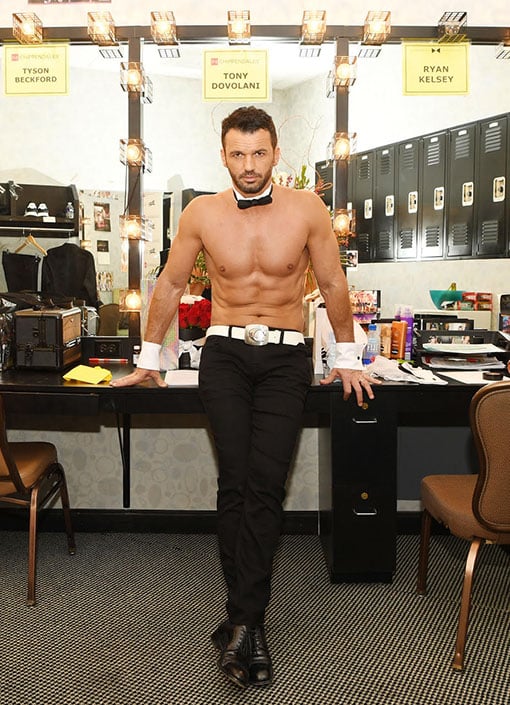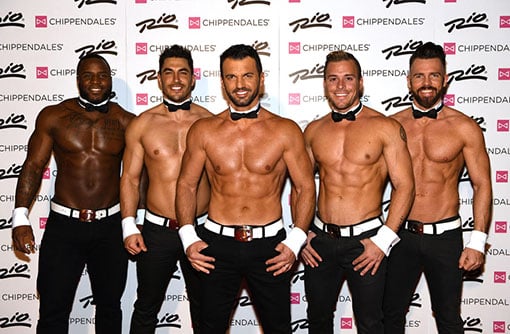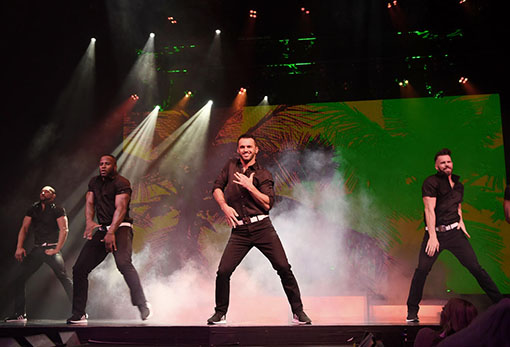 Reply to me and tell me what fantasy or sexual playdate YOU'D like most.
Here is a video with the Top 10 Fantasy Sex Techniques where I show you how to make fantasy sex safe and fun!
Click Here to get on the Steamy Sex Ed® Video Collection FLASH Sale VIP List Now