How do you introduce the idea of female ejaculation to your woman?
Are you just going to walk up to her one day and say, "Honey, I want to make you squirt tonight!"
Hold your horses, lover. There's a better way to ease her into the idea of gushing her love juices to her heart's content.
But before that, if you want to get right on to Gabrielle Moore's Squirting Secrets, click the link below.
PRESS TO COMMENCE SQUIRTING
One of my favorite ways to open up your woman to squirting is to frame the idea as something the two of you could do together as a couple's sexy time project.
Dr. Patti calls these, "Sandbox Dates." Susan calls them, "Erotic Playdates."
Think teamwork. Hot, sexy, and dripping wet teamwork.
Have a sense of exploration and adventure rather than putting all the emphasis on her, her performance, and her impending squirting. Because that creates "performance anxiety" for her.
If she feels like this is something you BOTH are learning about together, then she will less likely feel pressure, resistance, and inhibition. Begin as beginners together.
Open her up tonight, lover.
This is just ONE of the ways you can make her want to give squirting a go.
For now, if you want more squirting goodness, check out Gabrielle Moore's sexy new video.
Gabby has a new batch of hot, naked teachers ready to strip off their clothes and show you some sultry squirting secrets.
What's more, they're also going to show you every lovely inch of their private parts so you see exactly how to make a woman squirt buckets.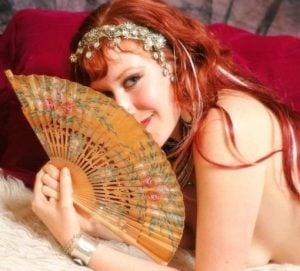 Tallulah Sulis
Certified Somatic Sexologist, Sex Educator, Coach, And Healer
Creator of "Female Liquid Orgasm" and "Squirt Your Heart Out"
You may ask why I'm promoting my friend's squirting videos instead of my own  "Female Liquid Orgasm" and "Squirt Your Heart Out" programs. And that is because when you are in a learning mode, you often want to get your hands on all the best available information possible from trusted resources. If you'd enjoy some gorgeous adult stars stripping down to show you how to make a woman squirt, then you will love what Gabby's created! Highly recommended.
✭✭✭✭✭ Five-Star New Squirting Video Series
⇐ Watch Gabrielle Moore's New Video On Squirting Orgasms