The New Rules Of Sex Summit (FREE Workshop)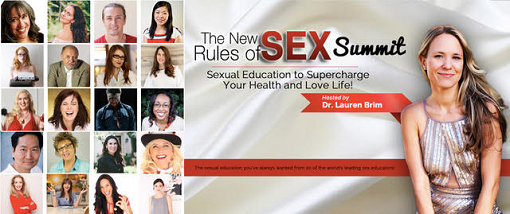 I've been invited to speak at the wonderful and beautiful Dr. Lauren Brim on her NEW summit called "The New Rules of Sex Summit."
In this free conversation with Dr. Lauren I show you what is possible orgasmically —how to become a better and more orgasmic man and woman —by telling my story of how I became orgasmic through techniques Tim and I learned.
It's an amazing story I've never told in such a chronological order. It will shine a light to possibility for anyone who wants to give and receive more pleasure.
I'm personally inviting you to watch my interview with Dr. Lauren Brim, as well as the videos of all the other sex, marriage, and relationship experts in the summit.
Best of all, you can watch the entire summit for FREE.
However, you have to get there ASAP. Her summit ends tomorrow.
NEW RULES OF SEX
Here are the facts:
Humans are sexual creatures from birth until death.
Yes, the importance of sex in our lives in general can wane, and there are a small number of people who identify as asexual, but most of us are healthiest and happiest when we are expressing sexuality, touch and intimacy with another human being(s).
I'm sure you agree.
After all, humans are social creatures, and it is through other humans, and particularly touch and sexuality that we regulate our nervous system and feel our best.
But sometimes our sex lives aren't as fruitful and abundant as we want it to be.
That's because there are new rules to sex. And if you don't know about it, you might be doing A LOT of things that are hindering your chances of having a wonderful sex life.
⇐ Listen To My Interview With Dr. Lauren Brim
You are a sexual being.
So if you've given up on sex, you are simply in need of support to get educated, heal your sexual trauma, and get that healthy sexual appetite back!
So join us for The New Rules of Sex Summit to get the education and support to have the sexual appetite you deserve!
Reserve your spot at The New Rules of Sex Summit, at no cost!