How To Meet And Marry Mr. Right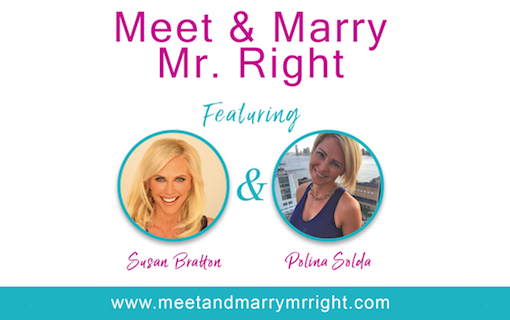 Has this happened to you?
You go on social media and you see that yet another friend got engaged, posted wedding photos or announced she's expecting a baby.
And although you're happy for your friends, you think to yourself, "Why isn't it happening for me?" or "When will I have that?" or "What am I doing wrong?"
You have a great life, except for the #1 thing that's missing — your love life.
If what you want the most is to meet the right man, fall in love and possibly get married, I have great news for you.
My friend and colleague, Polina Solda, is hosting  her 3rd annual "Meet & Marry Mr. Right" no-cost online show featuring over 25 dating and relationship expert rockstars (including me!)
HOW TO ATTRACT THE RIGHT GUY
In my interview with Polina, I talked about how you could keep your desire going so you could attract your dream man, as well as how to keep your confidence and feel like a sexual woman even without a partner at the moment.
If you don't yet know Polina, I'm proud to introduce her to you. She went from going on 100+ dates in one year to meeting her husband, who proposed 6 months later.
Now, 10 years later, she's still happily married and inspires other women to find love and keep it.
Here's what you're going to discover and instantly apply in your love life:
How to finally REMOVE unconscious blocks that have been holding you back.

Who you want to BE so that you can attract your dream man.

What needs to SHIFT in your mindset so that you can move freely towards love.

Where you can MEET the right man as soon as today.

How to RECOGNIZE your Mr. Right when he shows up.

What makes a man ready to COMMIT to you.

And much, much more!
By the time you finish watching this show, you'll have over a few decades' worth of experience and wisdom from the world's best love mentors.
Register Your Spot For The Show ⇒