Advanced Boobgasm Techniques (Erotic Video)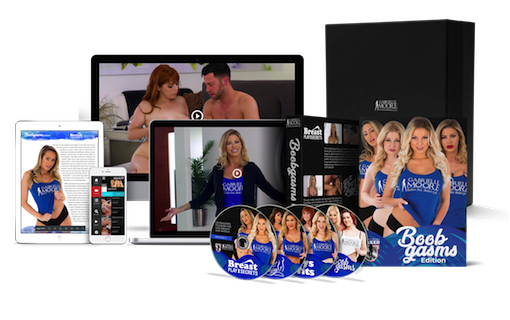 Have you ever given your lover the famed BI-GASM? Watch Gabrielle Moore's How-To video …
Did you watch Gabrielle Moore's NEW, sexy, and rated-R video yet?
It's all about how to give a woman "BI-GASMS" before, during, and even after some hot, wake-the-neighbors kind of sex.
You can give women orgasms with breast play and you'll see how in the video below.
BOUNCY BOOBIES AHEAD
In this NEW video, Gabrielle's girls are ready to bare their boobies, butts and more to give you a first-hand, up-close-and-zoomed-in view of their luscious bods…
So they can teach you exactly how to make love to their bouncing breasts…
And have the "Boobgasmic" touch a lot of women crave.
You see, masterful breast play is more than just groping, fondling, and pinching. In fact, those don't really turn women on.
What that cute blonde girl at the bar craves, or that beautiful brunette in the office salivates for, or your lovely girlfriend or wife so aptly desires in her sleep…
Is the sensate, gentle lovemaking your masculine hands can offer.
And clothes-hating Gabby and her girls are ready to show you all the techniques and strokes in this new sneak-peek, rated-R video.
Before you click the link, make sure you're ready for an erotic time.
Their tender, titillating tatas are anxious, excited, and horny for your boobgasmic touch, lover.
And they've dropped all their clothing to show you exactly how to give those breasts their own orgasmic experience.
Now, if you're wondering what a BI-Gasm is…
That's when you make a woman so hot and bothered… stirred up… and titillated… that she erupts in a boobgasm AND vaginal orgasm at once.
This is a rare video Gabrielle is willing to share right now, so I recommend you go and watch it now.
You'll love watching her take her clothes off too. And she loves doing it so you'll pay close attention to her and what she has to teach (and show) you.
And remember, don't just watch it for YOUR pleasure…
Watch it, learn the BI-GASM technique, and use it on your lover so she can experience it too.
⇐ Too Hot For Work