Giving Your Woman BI-GASM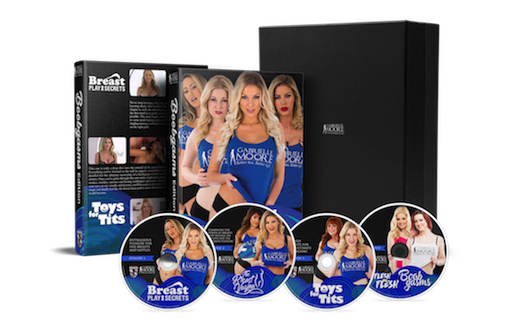 If you're the kind of man who wants to give his woman a BI-GASM, watch Gabrielle Moore's
How-To video…
Are your breast play skills up to bat?
Here's another tip for you.
Don't go straight to her nipples.
Contrary to what a lot of men believe, women DO NOT want you to overstimulate her nipples by going for it right away.
The nipples are very sensitive. Yes, it feels good. But a sudden rush of stimulation will only jolt us out of our turn on.
Remember, we get more aroused through slow, tender, teasing touches and strokes.
That means you'll want to spend a few moments kissing her, whispering sweet nothings in her ear, slowly massaging the wonderful flesh of her breast (avoid her nipples for now,) hold her hand, and even by stroking different parts of her body.
For more hot and sizzling breast play tips and techniques, you might want to take a look at Gabrielle Moore's NEW video starring her sexy NEW instructor, Jessa.
⇐ Too Hot For Work
SHE'S WAITING FOR YOU
Jessa has a specialty… called the BI-GASM.
That's when you make a woman so hot and bothered… stirred up… and titillated… that she erupts in a boobgasm AND vaginal orgasm at once.
This is a rare video Gabrielle is willing to share right now, so I recommend you go and watch it now.
You'll love watching her take her clothes off too. And she loves doing it so you'll pay close attention to her and what she has to teach (and show) you.
And remember, don't just watch it for YOUR pleasure…
Watch it, learn the BI-GASM technique, and use it on your lover so she can experience it too.