Secrets To Reversing Our Age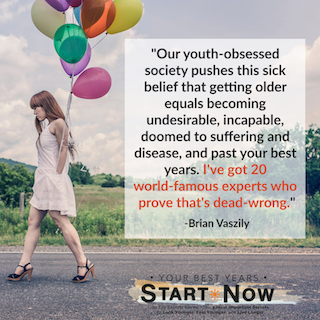 "Fat old hag."
I actually saw that as a title on a magazine cover.
Our society manipulates us as we age. It's time to push back on this sick belief!
If you ever worry about any aspect of getting older —wrinkles, low energy, moodiness, stubborn fat, Alzheimer's, cancer —pay attention to this.
A friend of mine, Brian Vaszily, has worked with many of the world's most well-known and trusted experts in health, wellness, and the science of anti-aging for over 20 years.
And now he's sharing insights about the art of anti-aging, turning back the clock on your biology, and prolonging your amazing life.
I'm inviting you to join me and over 20 of the world's top experts on the subject to dive deeper into the science, studies, and secrets to "reversing" our age.  I'm definitely listening to EVERY SINGLE ONE OF THESE free audios on anti-aging.
AGING GRATEFULLY
This is something that's close to my heart.
It's obvious that aging affects all of us.
And because of how loaded with toxins and chemicals our world and lifestyles have become, it seems WE'RE ALL AGING FASTER than we've ever been before.
⇐ Your Best Years Start Now
Today, some people in their 30s are feeling signs of aging that used to just happen to people in their 50s.
That alone is shocking to me.
Now, Brian's summit is more than just a gathering of the world's top experts on the topic.
It's also the start of an urgently-needed movement.
If you are in your 30s or beyond, this will resonate with you deeply.
And Brian's emotional story of why he started this mission will touch your heart.
Most important, though, are the ANSWERS you are going to get.
And because you are getting over 20 of the best of the best, from different areas of expertise, revealing only their best, this means you're going to discover only THE most effective secrets you need to know to:
* Enjoy smooth, beautiful skin now and late into life
* Finally lose even that "impossible-to-lose" weight
* Stop feeling anxiety, guilt, loneliness
* Enjoy peak energy, moods, and mental clarity
* Elevate your confidence
* Overcome and avoid physical pain and stiffness
* Avoid (and possibly even reverse) Alzheimer's, cancer, and other serious diseases
And the most "beautiful truth" about all this?
Well, I'll let Brian share that with you in this powerful video trailer that may send shivers of various sorts down your spine, too.
The fact is, if you're in your 30s, 40s, 50s, 60s, or beyond, your best years really can and should start this year…
With Your Best Years Start Now, and my good friend Brian as your guide, they will.
This 100% FREE online summit is truly essential for anyone in their 30s, 40s, 50s, 60s, or beyond — especially women, as you're about to see here.