Valentine's Sale "Buy One Get One Half Price."
When I was on The Shameless Sex Podcast with Amy and April, they gave me two new sex toys for couples from Hot Octopuss.
These super high quality and well engineered sex toys are nothing like you've seen before. They could be modern art museum pieces with their gorgeous design. And the motor technologies they use are in a whole new league.
These are vibrators for her and "Guybrators" for him combined.
Tim and I tried them both a few times and really enjoyed the experience of vibrators made for him and her together.
This week from the 7th – 14th of February Hot Octopuss is having a "Buy One Get One Half Off" Valentine's Day Sale.
The two products we played with were a cock ring with a vibrator for him that goes under his testicles. The second vibrator at the top stimulates her clitoris during intercourse.
Most vibrating cock rings are made from cheap, Chinese toxic materials and have a crappy little vibrator on them that doesn't get her off.
This cock ring has two rumbly vibes, gorgeous control buttons, and it's made of medical grade silicone.
If you like to have intercourse while getting clitoral stimulation for her and perineal stimulation for him, definitely try the Atom Plus.
The second vibe we used was the Pulse III Duo. It uses a vibrating plate for his frenulum. She rides a vibe on the top of the device similar to riding a Sybian vibrating saddle.
The Pulse III Duo can be used with men who are unable to achieve a hard enough erection for penetration. You can ride the vibe together, still being very close and sexy, even without an erection.
If you've followed me for any time at all, you know I don't talk much about sex toys. My wheelhouse is body-to-body, passionate lovemaking techniques.
Just by me mentioning these couples lovemaking devices, you know they are worth checking out.
This could be just the fun you were looking to have on Valentine's Day.
Note: There is a masturbatory toy for mens' solo pleasure. If you're currently single, you may enjoy that version.
Here's the link that gets you a "Buy One Get One Half Off." Maybe you can go in with friends and try both out?
This is the toy and lube collection I took to Australia for our trip over the holidays. You can see the Atom Plus and Pulse III Duo along with my favorite traveling vibrator and G-Spot pleasuring wand and the organic coconut and avocado oils we use for clean, healthy lubrication.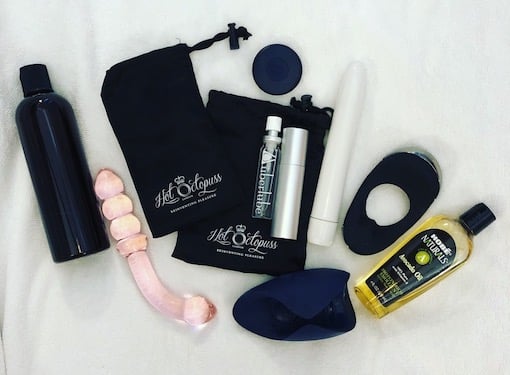 HOT OCTOPUSS
We had a LOT of fun learning how to use these toys and incorporating them into our lovemaking.
⇐

Valentine's Day Sale
The couple that plays together, stays together… especially in the bedroom.
Let me know if you get one or both of these fabulous toys!