Estrogen: "Endocrine Disruptors" In your cream.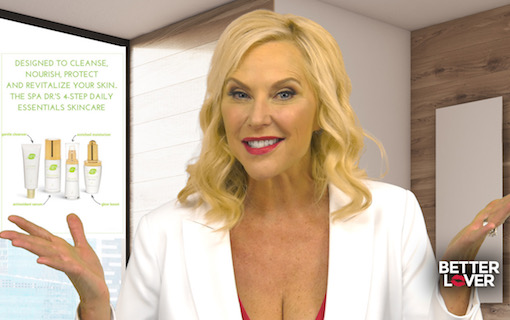 I just spoke at a conference on anti-aging and longevity. My speech was called, Primal Sex. I got a chance to sit in many of the other sessions led by famous doctors such as Dr. David Perlmutter, Dr. Dan Pompa, Dr. Tom O'Bryan… And every single one talked about how toxins in our body are disrupting our endocrine system.
Your endocrine system makes your hormones. And as the toxic load from your health and beauty and cleaning products get stuck in your body, you make less and less hormones.
If your eyes are the window to your soul and your face is a reflection of your health, it's important they work together so you can look and feel beautiful no matter what.
That is why I want to share with you the right skin care line to boost youthful and glowing skin, naturally. Without toxic ingredients…
As trusted hot sex advisor to millions, I test, work with and look at dozens of options, but nothing ever came close to an easy, effective and natural solution until I met Dr. Trevor Cates, and she introduced me to TheSpaDr.com.  
⇐ The Spa Dr. (The Hottest And Sexiest Your Skin Can Be)
MORE THAN A SKIN CARE SYSTEM
Whether you're in your 20's and want to glow, your 30's and are looking to prevent aging or you're 40+ and want to reduce the appearance of fine lines, wrinkles and age spots, this product line is for all of you.
TheSpaDr 4 step system is:
✔ Safe for all skin types
✔ Boosts younger skin and helps it glow
✔ Works to balance uneven skin tone eliminating the need for foundation
✔ Helps reduce the appearance of fine lines and wrinkles
✔ Keeps your skin looking and feeling amazing
Check out my video on why I love these products and also get an exclusive offer only available to newsletter subscribers like you.